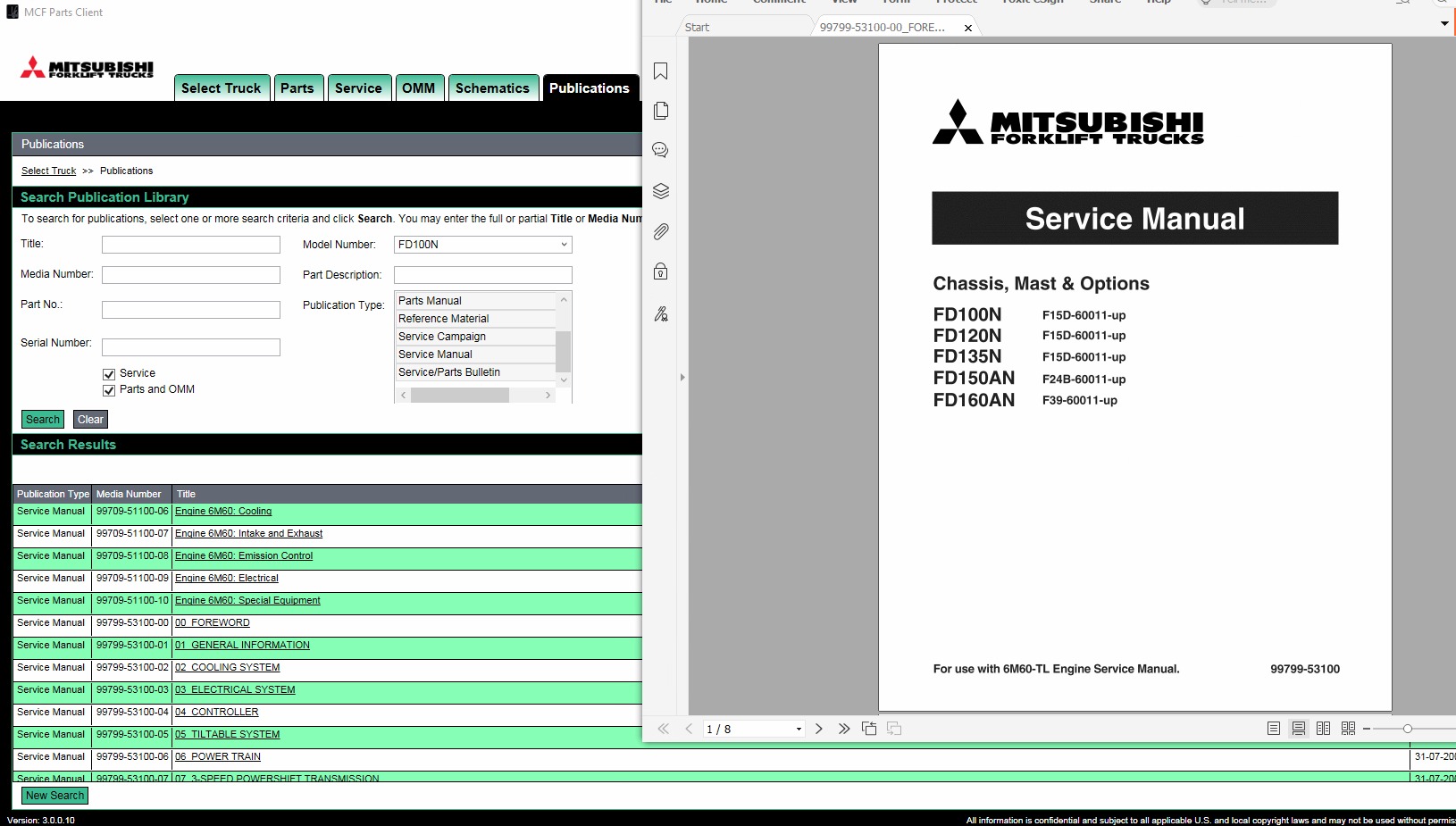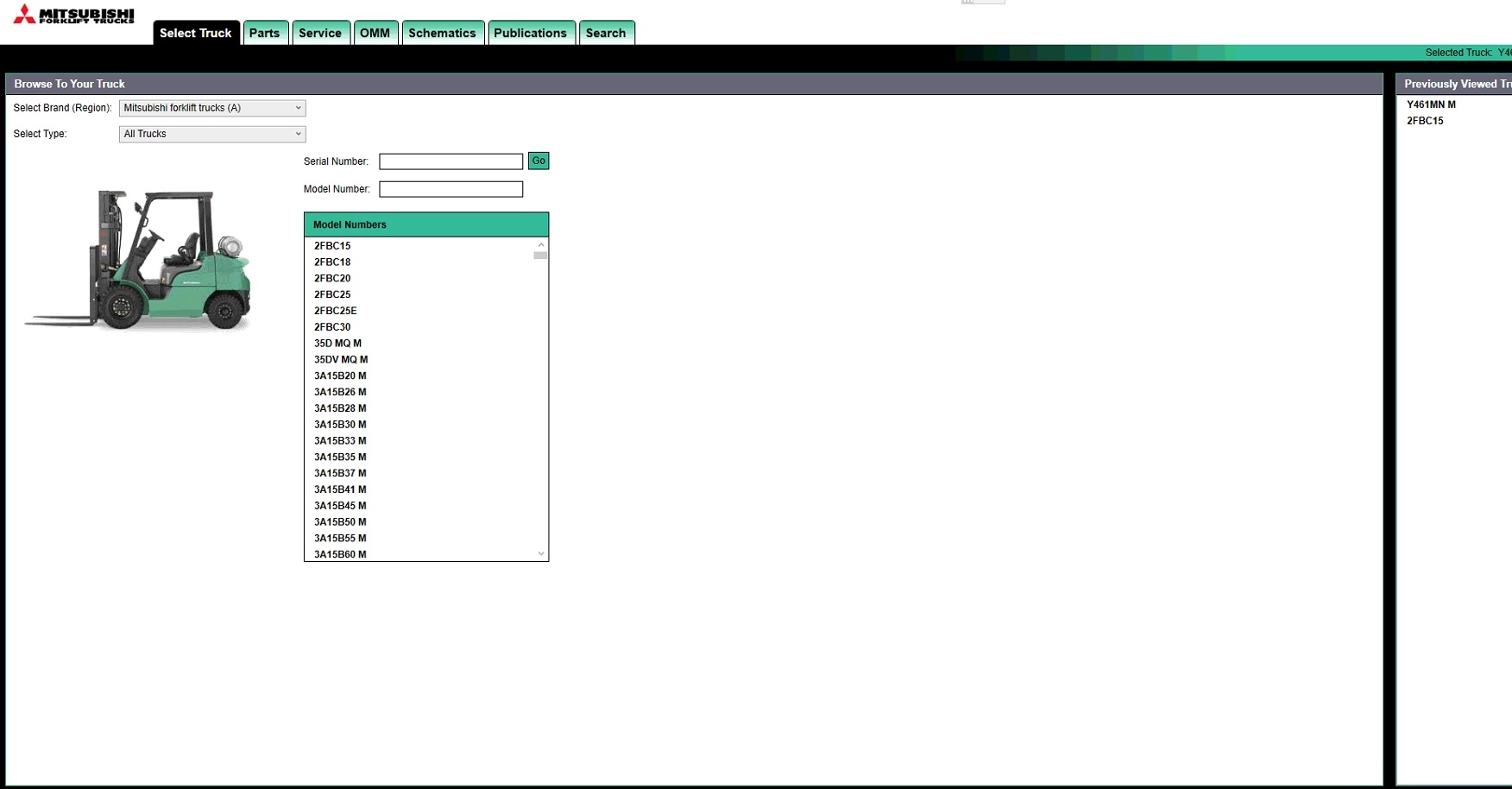 Mitsubishi Forklift MCFS ASIA Parts Catalogue, Workshop Manuals New 05.2022
Size: 12.59 GB
Brand: Mitsubishi
Type of Machine: Forklift Truck, Reach Truck, Pallet Truck and Warehouse Equipment
Type of software: Mitsubishi Forklift Trucks Electronic Parts Catalogue and Publication Service Manual
Interface Languages: English, Spanish, Italian, Mexican, German, French, Swedish
Database Languages: Only English
Region: ASIA MCFA
OS: Window 7, Window 8, Window 10 32 & 64bit (Tested on Windows 10 pro 20H2 64bit)
Date Modified: 05/2022
Instruction: Present
Print Function: Present

If you still have questions about our Products
Don't hesitate to contact us "Support@servicepartmanuals.com"
Cheapest on the Internet !
US $300
Description
Mitsubishi Forklift MCFS ASIA Parts Catalogue, Workshop Manuals New 05.2022
Size: 12.59 GB

Brand: Mitsubishi

Type of Machine: Forklift Truck, Reach Truck, Pallet Truck and Warehouse Equipment

Type of software: Mitsubishi Forklift Trucks Electronic Parts Catalogue and Publication Service Manual

Interface Languages: English, Spanish, Italian, Mexican, German, French, Swedish

Database Languages: Only English

Region: ASIA MCFA

OS: Window 7, Window 8, Window 10 32 & 64bit (Tested on Windows 10 pro 20H2 64bit)

Date Modified: 05/2022

Instruction: Present

Print Function: Present
If you still have questions about our Products
Don't hesitate to contact us "Support@servicepartmanuals.com"
Cheapest on the Internet !
Electronic spare parts catalog Mitsubishi Forklift Truck contains the catalog of details forklift loaders of various carrying capacities (including models with the electric drive).
The program Mitsubishi ForkLift on one CD and one DVD is delivered, by default the program is established with work with the use of DVD but possible to establish the program Mitsubishi ForkLift completely on HDD. Supports English and other languages.
The interface of the program Mitsubishi ForkLift very simple and convenient, is search on model, serial numbers, the list of applicability of a detail as the program contains service bulletins.
Models in Mitsubishi Forklift Trucks:
Mitsubishi Hand Pallet
Mitsubishi Electric Models
Mitsubishi Cushion Tire
Mitsubishi Small Pneumatic (1-5 ton)
Mitsubishi Large Pneumatic (6-15 ton)
Hand Pallet
GS-Mit
GT-Mit
MBF Hand Pallet
Electric Models
2FBC15 36/48V
2FBC18 36/48V
2FBC20 36/48V
2FBC20 72/80V
2FBC25 36/48V
2FBC25 72/80V
2FBC25E 36/48V
2FBC25E 72/80V
2FBC30 36/48V
2FBC30 72/80V
FB10CA
FB10HCA
FB10KRT
FB10KRT PAC
FB12KRT
FB12KRT PAC
FB13PNT
FB13TCA
FB14CA
FB14HCA
FB15CA
FB15HCA
FB15KRT
FB15KRT PAC
FB15PNT
FB15TCA
FB16CPN
FB16CPNT
FB16K
FB16KT
FB16N
FB16NT
FB16PN
FB16PNT
FB18CA
FB18CPN
FB18CPNT
FB18HCA
FB18K
FB18KT
FB18N
FB18NT
FB18PN
FB18PNT
FB18TCA
FB20CA
FB20CN
FB20HCA
FB20K
FB20K PAC
FB20KC
FB20KT
FB20NT
FB20PN
FB20PNT
FB20TCA
FB25CA
FB25HCA
FB25K
FB25K PAC
FB28CA
FB28HCA
FB30CA
FB30HCA
FB30K
FB30K PAC
FB35K
FB35K PAC
FB40
FB45
FB50
FBC15
FBC15K
FBC15N
FBC18K
FBC18LN
FBC18N
FBC20
FBC20K
FBC20N
FBC25
FBC25EN
FBC25K
FBC25KE
FBC25KL
FBC25LN
FBC25N
FBC30
FBC30K
FBC30LN
FBC30N
FBC35N
FBC40N
FBC45N
FBC55N
FBP16 36/48V TR3000
FBP16 36/48V TR3500
FBP16 72/80V TR3000
FBP16 72/80V TR3500
FBP18 36/48V TR3000
FBP18 36/48V TR3500
FBP18 72/80V TR3000
FBP18 72/80V TR3500
FBP20 36/48V TR3000
FBP20 36/48V TR3500
FBP20 72/80V TR3000
FBP20 72/80V TR3500
FBP25 36/48V TR3000
FBP25 36/48V TR3500
FBP25 72/80V TR3000
FBP25 72/80V TR3500
FBP30 36/48V TR3000
FBP30 36/48V TR3500
FBP30 72/80V TR3000
FBP30 72/80V TR3500
FBS13 24V
FBS13 36V
FBS13 48V
FBS15 24V
FBS15 36V
FBS15 48V
FBS18 36V
FBS18 48V
FBS20 48V
Cushion Tire
FD20HS
FD20S
FD25S
FD30HS
FD30S
FD40N1
FD40NM1
FD45N1
FD45NM1
FD50CN1
FD50N1
FD50NM1
FD55N1
FD55NM1
FDC20
FDC25
FDC30
FG20S
FG25S
FG30S
FG40N1
FG45N1
FG50CN1
FG50N1
FG55N1
FGC15
FGC15K
FGC15N
FGC18
FGC18K
FGC18N
FGC20
FGC20CN
FGC20HP
FGC20K
FGC20K HO
FGC20N
FGC20N HO
FGC25
FGC25HP
FGC25K
FGC25K HO
FGC25N
FGC25N HO
FGC28N
FGC30
FGC30K
FGC30N
FGC33N
FGC35K
FGC40K
FGC40K STC
FGC45K
FGC45K C
FGC45K STC
FGC55K
FGC55K STC
FGC60K
FGC70K
FGC70K STC
FGE35N
Small Pneumatic (1 ton – 5 ton):
FD10N
FD15
FD15K FC
FD15K MC
FD15N
FD18
FD18K FC
FD18K MC
FD18N
FD20
FD20CN
FD20K FC
FD20K MC
FD20N
FD25
FD25HS
FD25K FC
FD25K MC
FD25N
FD30
FD30K FC
FD30K MC
FD30N
FD35
FD35A
FD35AN
FD35K FC
FD35K MC
FD35N
FD40
FD40K
FD40KL
FD40N
FD45
FD45K
FD45N
FD50
FD50C
FD50CN
FD50CNM1
FD50K
FD50N
FD55N
FG10
FG10N
FG15
FG15K FC
FG15K MC
FG15N
FG15ZN
FG18
FG18K FC
FG18K MC
FG18N
FG18ZN
FG20
FG20CN
FG20HN
FG20K FC
FG20K MC
FG20N
FG20ZN
FG25
FG25NH
FG25K FC
FG25K MC
FG25N
FG25ZN
FG30
FG30K FC
FG30K MC
FG30N
FG35
FG35A
FG35AN
FG35K FC
FG35K MC
FG35N
FG40
FG40K
FG40KL
FG40N
FG40NF
FG45K
FG45N
FG45NF
FG50
FG50CN
FG50CNF
FG50K
FG50N
FG50NF
FG55N
FG55NF
FGE10N
FGE15N
FGE15ZN
FGE18N
Mitsubishi Forklift MCFS ASIA Parts Catalogue New 05.2022
If you need help please let us know,
This is our contact
Related Products