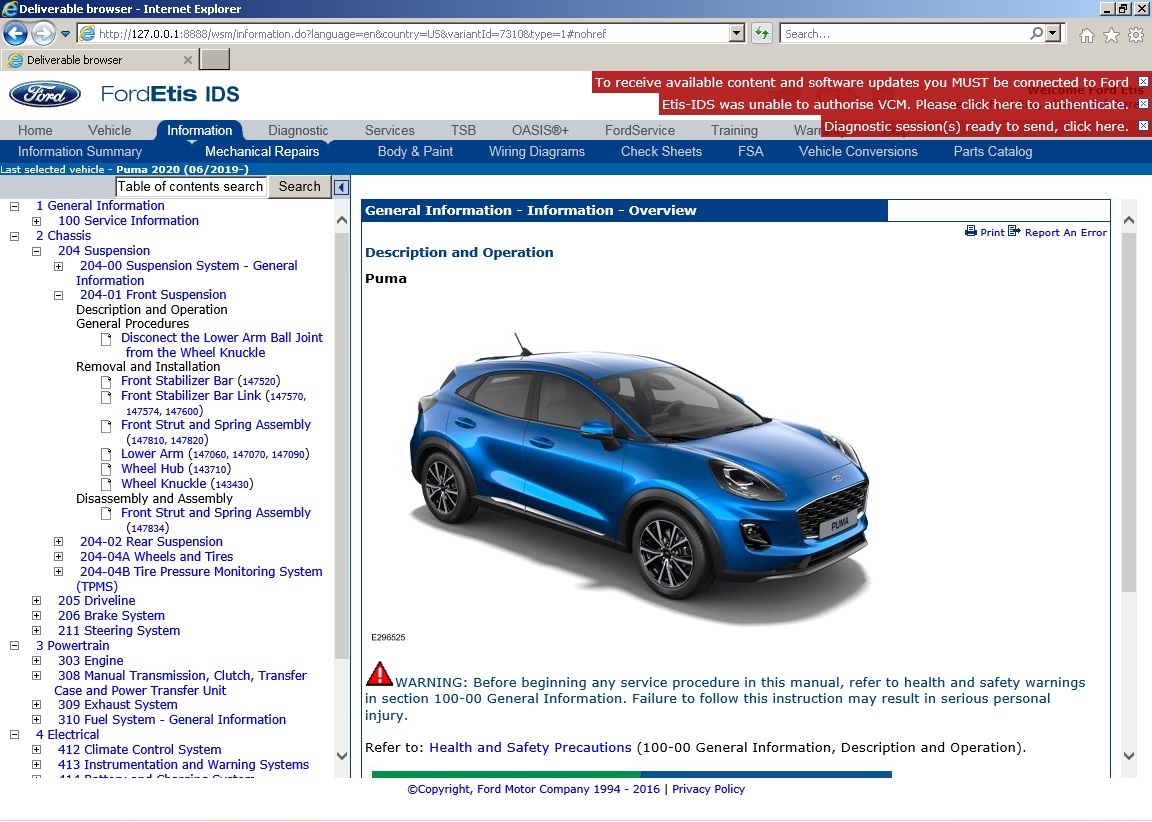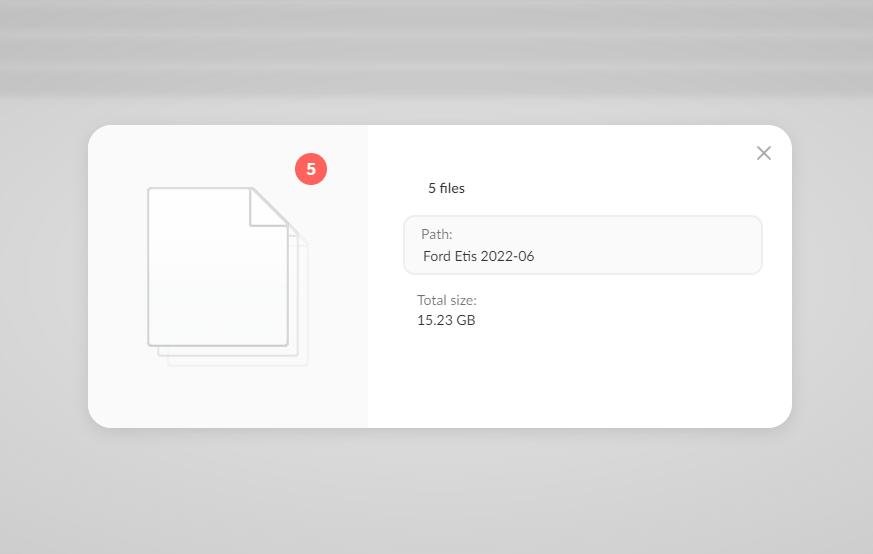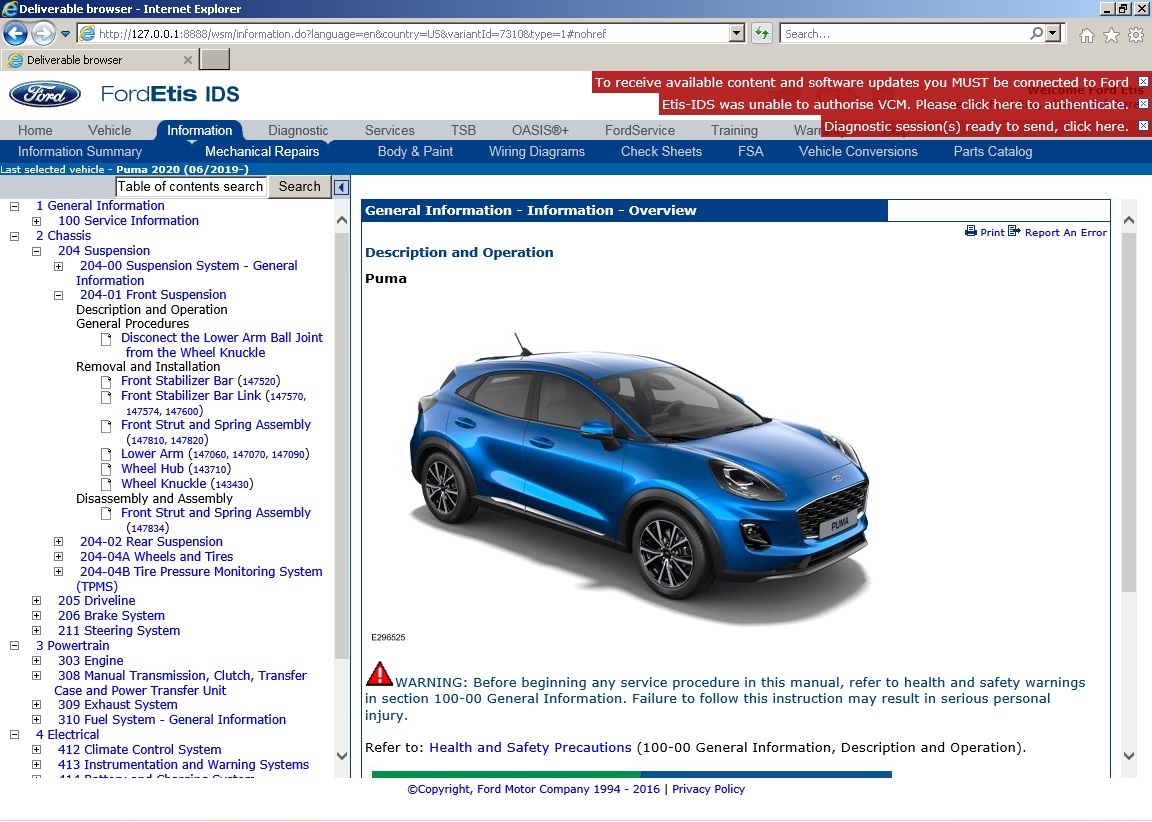 Ford ETIS Offline Repair Manuals 06.2022
US $100
Description
Ford ETIS Offline Repair Manuals 06.2022

Size: 15.23 GB (Archive WinRAR)
Language: English
Format: Html
Data update: 06.2022
Type: Including vehicle General Info, Mechanical Repairs, Body and Paint repairs. No Wiring Diagrams, no Spare Parts Catalog
Disk: 1 DVD
Window: Windows 7 32 64 bit, Windows 10 32 64bit
If you still have questions about our Products
Don't hesitate to contact us "Support@servicepartmanuals.com"
Cheapest on the Internet !
Ford Etis IDS Offline new update 2022/06. The latest repair database data was downloaded from the server.
Including vehicle General Info, Mechanical Repairs, and Body & Paint repairs. And a working TSB via Internet!
Not include Wiring Diagrams, Spare Parts Catalog – these functions are only online for officially registered users.
Do not try to update the Etis program – it will not work after the update.
Details Model Updated Ford ETIS IDS Offline 06/2022:
Ford ETIS IDS Offline B-MAX 2012.75(01/2012-)C-MAX 2003.75(06/2003-)
Ford ETIS IDS Offline C-MAX 2011.0(04/2010-)
Ford ETIS IDS Offline C-MAX 2015.50(03/2015-)C-MAX Hybrid (10/2014-)
Ford ETIS IDS Offline Cougar 1999 (08/1998-01/2001)
Ford ETIS IDS Offline EcoSport 2013(05/2012-)
Ford ETIS IDS Offline Edge(03/2010-)
Ford ETIS IDS Offline 2016.00(08/2015-)
Ford ETIS IDS Offline 2013.00(12/2012-)
Ford ETIS IDS Offline Escape/Kuga 2019.75(05/2019-)
Ford ETIS IDS Offline Escort/Orion 1991 (08/1990-09/2001)
Ford ETIS IDS Offline Expedition 2018(09/2017-)
Ford ETIS IDS Offline Explorer 1995(08/1995-09/2000)
Ford ETIS IDS Offline Explorer 2013.50(04/2011-)
Ford ETIS IDS Offline Explorer 2020 (03/2019-)
Ford ETIS IDS Offline F-150 2015.00(12/2014-)
Ford ETIS IDS Offline Fiesta 1989(03/1989-06/1996)
Ford ETIS IDS Offline Fiesta 1996 (08/1995-02/2002)
Ford ETIS IDS Offline Fiesta 2002.25(11/2001-09/2008)
Ford ETIS IDS Offline Fiesta 2008.75(06/2008
Ford ETIS IDS Offline Fiesta 2013.00(05/2012-)
Ford ETIS IDS Offline Fiesta 2017.00(01/2017-)
Ford ETIS IDS Offline Figo 2011.25(01/2011-)
Ford ETIS IDS Offline Focus 1999(08/1998-12/2004)
Ford ETIS IDS Offline Focus 2004.75(07/2004-)
Ford ETIS IDS Offline Focus 2011.25(07/2010-)
Ford ETIS IDS Offline Focus 2015.00(05/2014-)
Ford ETIS IDS Offline Focus 2019 (01/2018
Ford ETIS IDS Offline Focus Electric(10/2012-)
Ford ETIS IDS Offline Focus Electric 2015.00(05/2014-)
Ford ETIS IDS Offline Focus RS 2003 (09/2002-)
Ford ETIS IDS Offline Fusion 2002.75(06/2002-)
Ford ETIS IDS Offline Fusion 2015.00(12/2014-)
Ford ETIS IDS Offline Galaxy 1995(02/1995-03/2000)
Ford ETIS IDS Offline Galaxy 2000.75(04/2000-02/2006)
Ford ETIS IDS Offline Ikon 1999(01/2000-)
Ford ETIS IDS Offline KA+2016.50(01/2016-)
Ford ETIS IDS Offline Ka 1997(09/1996-07/2008)
Ford ETIS IDS Offline Ka 2009(07/2008
Ford ETIS IDS Offline Kuga 2008.5(02/2008
Ford ETIS IDS Offline Kuga 2013.25(05/2012-)
Ford ETIS IDS Offline Kuga 2020(07/2019-)
Ford ETIS IDS Offline Kuga 2020 FHEV/PHEV 2020 (07/2019-)
Ford ETIS IDS Offline Maverick 2001(12/2000-07/2004)
Ford ETIS IDS Offline Maverick 2005(08/2004-)
Ford ETIS IDS Offline Mondeo 1993(01/1993-07/1996)
Ford ETIS IDS Offline Mondeo 1997(08/1996-09/2000)
Ford ETIS IDS Offline Mondeo 2001(10/2000-02/2007)
Ford ETIS IDS Offline Mondeo 2007.5(02/2007-)
Ford ETIS IDS Offline Mondeo 2014.75(10/2014-)
Ford ETIS IDS Offline Mondeo Hybrid 2014.75(04/2014-)
Ford ETIS IDS Offline Mustang 2015.00(02/2014-)
Ford ETIS IDS Offline Mustang Mach-E 2021(06/2019-)
Ford ETIS IDS Offline Puma 1998(06/1997-12/2001)
Ford ETIS IDS Offline Puma 2020(06/2019-)
Ford ETIS IDS Offline Racing Puma (01/2000-12/2000)
Ford ETIS IDS Offline Ranger 2006.5(05/2006-)
Ford ETIS IDS Offline Ranger 2012(04/2011-)
Ford ETIS IDS Offline S-MAX/Galaxy 2006.5(02/2006-)
Ford ETIS IDS Offline Mondeo 2014.75(10/2014-)
Ford ETIS IDS Offline Mondeo Hybrid 2014.75(04/2014-)
Ford ETIS IDS Offline Mustang 2015.00(02/2014-)
Ford ETIS IDS Offline Mustang Mach-E 2021(06/2019-)
Ford ETIS IDS Offline Puma 1998(06/1997-12/2001)
Ford ETIS IDS Offline Puma 2020(06/2019-)
Ford ETIS IDS Offline Racing Puma (01/2000-12/2000)
Ford ETIS IDS Offline Ranger 2006.5(05/2006-)
Ford ETIS IDS Offline Ranger 2012(04/2011-)
Ford ETIS IDS Offline MAXWGalaxy 2006.5 (02/2006-)
Ford ETIS IDS Offline S-MAX/Galaxy 2015.50(01/2015-)
Ford ETIS IDS Offline S-MAX/Galaxy FHEV 2021.50(07/2020-)
Ford ETIS IDS Offline Scorpio 1995(10/1994-06/1998)
Ford ETIS IDS Offline StreetScooter 2018.75(06/2018
Ford ETIS IDS Offline Streetka 2003.5(01/2003-07/2005)
Ford ETIS IDS Offline Super Duty 2014.00(12/2013-)
Ford ETIS IDS Offline Tourneo Connect Taxi 2014.50 (03/2013-)
Ford ETIS IDS Offline Transit-Russia 2019.75(04/2019-)
Ford ETIS IDS Offline Transit 1995(08/1994-07/2000)
Ford ETIS IDS Offline Transit 2000.5(01/2000-05/2006)
Ford ETIS IDS Offline Transit 2006.5(04/2006-) Transit 2014.5(08/2013-)
Ford ETIS IDS Offline Transit 2019.75(10/2018
Ford ETIS IDS Offline Transit Connect/Tourneo Connect 2002.5(06/2002-)
Ford ETIS IDS Offline Transit Connect/Tourneo Connect 2014.00(02/2013-)
Ford ETIS IDS Offline Transit Connect/Tourneo Connect BEV 2011.50(03/2011-)
Ford ETIS IDS Offline Transit Courier/Tourneo Courier 2014.50(10/2013-)
Ford ETIS IDS Offline Transit Custom 2012.75(04/2012-)
Ford ETIS IDS Offline Transit Custom PHEV/Tourneo Custom PHEV 2020(05/2019-)
Ford ETIS IDS Offline Windstar 1995(10/1994-07/2000)
If you need help, please let us know,
This is our 
contact
Related Products