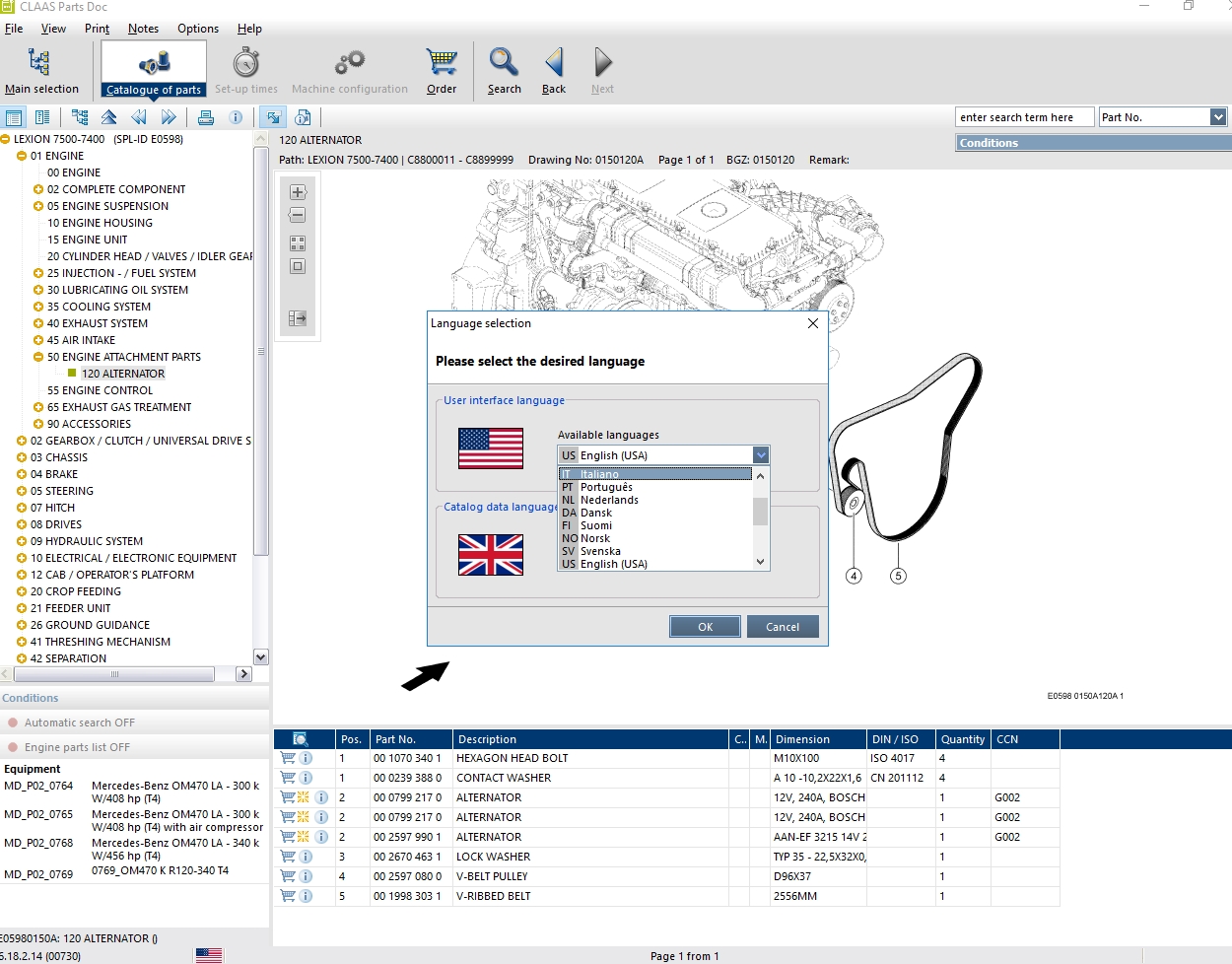 Claas Parts Doc 2.2 Updated 730 EPC Parts Catalog 06.2022
US $200
Description
Claas Parts Doc 2.2 Updated 730 EPC Parts Catalog 06.2022
Size: 29 GB (Winrar Files)

Region: All regions

Interface Languages: English, Hungarian, Dutch, Danish, Spanish, Italian, Mexican, German, Norwegian, Polish, Russian, Turkish, French, Czech, Netherlands, Swedish, Zhongwen, Magyar, Ellinika, Svenska, Suomi, Norsk, Danska

Database Languages: English, Italian, Spanish, German, French, Polish, Russian

Type of software: Spare parts catalog for CLAAS Agricultural

Type of vehicle: Agricultural

OS: Window 7, Window 8, Window 10 32 & 64bit (Tested on win 10 pro 1607 64bit & Window 7 ultimate 64bit)

Database of update: 06.2022

Version: 730

Viewer Version: 6.18.2.14

DB-Version: 6.1

Date: June 2022

Make: Claas

Amount of Disks: 1 DVD

Instruction: Present

Installation: Multiple PCs

Supporter: Present
If you still have questions about our Products
Don't hesitate to contact us "Support@servicepartmanuals.com"
Cheapest on the Internet !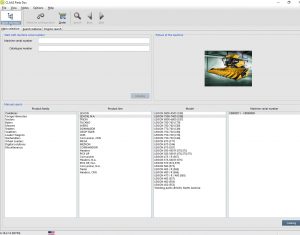 Catalog Claas Parts DOC (Agricultural) contains detailed and clear guidelines for the maintenance of all equipment models Claas, will help the user to timely and quality care in the repair, maintenance, calibration, installation and dismantling of certain parts of vehicles Claas.
The program Claas Parts DOC (Agricultural) is indispensable for the owners of new agricultural machinery Claas, which is equipped with electronics.
The list of models, included in Claas Parts Doc could is listed below
***PRIMARY MODELS:
Balers
Combines
Easy
Forage Harvesters
Loader Wagons
Miscellaneous
Mowers
Swathers
Tedders
Telehandlers
Tractors
Wheel Loaders
***DETAIL MODELS:
Claas Balers MARKANT Spare Parts Catalog English Italian Spanish German French Polish Russian
Claas Balers MARKANT 55 Spare Parts Catalog English Italian Spanish German French Polish Russian
Claas Balers QUADRANT 3200 RF / RC Spare Parts Catalog English Italian Spanish German French Polish Russian
Claas Balers MARKANT 51 Spare Parts Catalog English Italian Spanish German French Polish Russian
Claas Balers MARKANT41 Spare Parts Catalog English Italian Spanish German French Polish Russian
Claas Balers Welding parts MARKANT Spare Parts Catalog English Italian Spanish German French Polish Russian
Claas Balers QUADRANT 5300 Spare Parts Catalog English Italian Spanish German French Polish Russian
Claas Balers QUADRANT 5200 Spare Parts Catalog English Italian Spanish German French Polish Russian
Claas Balers QUADRANT 4200 Spare Parts Catalog English Italian Spanish German French Polish Russian
Claas Balers QUADRANT 4000 Spare Parts Catalog English Italian Spanish German French Polish Russian
Claas Balers QUADRANT 3400 / RF / RC Spare Parts Catalog English Italian Spanish German French Polish Russian
Claas Balers QUADRANT 3300 Spare Parts Catalog English Italian Spanish German French Polish Russian
Claas Balers QUADRANT ADVANTAGE Spare Parts Catalog English Italian Spanish German French Polish Russian
Claas Balers QUADRANT 2200 / RC Spare Parts Catalog English Italian Spanish German French Polish Russian
Claas Balers QUADRANT 2100 N Spare Parts Catalog English Italian Spanish German French Polish Russian
Claas Balers QUADRANT 2100 / RF / RC Spare Parts Catalog English Italian Spanish German French Polish Russian
Claas Balers QUADRANT 1200 RC Spare Parts Catalog English Italian Spanish German French Polish Russian
Claas Balers QUADRANT 1200 Spare Parts Catalog English Italian Spanish German French Polish Russian
Claas Balers QUADRANT 1 1 SO RC Spare Parts Catalog English Italian Spanish German French Polish Russian
Claas Balers QUADRANT 1 1 so Spare Parts Catalog English Italian Spanish German French Polish Russian
Claas Balers QUADRANT 1 IDO Spare Parts Catalog English Italian Spanish German French Polish Russian
Claas Balers Welding parts QUADRANT Spare Parts Catalog English Italian Spanish German French Polish Russian
Claas Balers ROLLANTE20 Spare Parts Catalog English Italian Spanish German French Polish Russian
Claas Balers ROLLANT san Spare Parts Catalog English Italian Spanish German French Polish Russian
Claas Balers ROLLANT spr, Spare Parts Catalog English Italian Spanish German French Polish Russian
Claas Balers ROLLANT 455 UNIWRAP Spare Parts Catalog English Italian Spanish German French Polish Russian
Claas Balers ROLLANT 455 Spare Parts Catalog English Italian Spanish German French Polish Russian
Claas Balers ROLLANT 454 UNIWRAP Spare Parts Catalog English Italian Spanish German French Polish Russian
Claas Balers ROLLANT 375/355 UNIWRAP Spare Parts Catalog English Italian Spanish German French Polish Russian
Claas Balers ROLLANT 375/355 / RC Spare Parts Catalog English Italian Spanish German French Polish Russian
Claas Balers ROLLANT 374/354 / RF,'RC Spare Parts Catalog English Italian Spanish German French Polish Russian
Claas Balers ROLLANT 350 / Spare Parts Catalog English Italian Spanish German French Polish Russian
Claas Balers ROLLANT Spare Parts Catalog English Italian Spanish German French Polish Russian
Claas Balers ROLLANT 260 Spare Parts Catalog English Italian Spanish German French Polish Russian
Claas Balers ROLLANT 255-250 UNIWRAP Spare Parts Catalog English Italian Spanish German French Polish Russian
Claas Balers ROLLANT 255 Spare Parts Catalog English Italian Spanish German French Polish Russian
Claas Balers ROLLANT 254 RC Spare Parts Catalog English Italian Spanish German French Polish Russian
Claas Balers ROLLANT 250 RC Spare Parts Catalog English Italian Spanish German French Polish Russian
Claas Balers ROLLANT 240 Spare Parts Catalog English Italian Spanish German French Polish Russian
Claas Balers ROLLANT 160 ,'66 Spare Parts Catalog English Italian Spanish German French Polish Russian
Claas Balers ROLLANT 85 Spare Parts Catalog English Italian Spanish German French Polish Russian
Claas Balers ROLLANTE2 Spare Parts Catalog English Italian Spanish German French Polish Russian
Claas Balers ROLLANT 46 RC Spare Parts Catalog English Italian Spanish German French Polish Russian
Claas Balers ROLLANT4E Spare Parts Catalog English Italian Spanish German French Polish Russian
Claas Balers ROLLANT45 Spare Parts Catalog English Italian Spanish German French Polish Russian
Claas Balers ROLLANT 44 Spare Parts Catalog English Italian Spanish German French Polish Russian
Claas Balers ROLLANT42 Spare Parts Catalog English Italian Spanish German French Polish Russian
Claas Balers ROLLANT 34 Spare Parts Catalog English Italian Spanish German French Polish Russian
Claas Balers Welding parts ROLLANT Spare Parts Catalog English Italian Spanish German French Polish Russian
Claas Balers VARIANT 485-480 / RF / RC Spare Parts Catalog English Italian Spanish German French Polish Russian
Claas Balers VARIANT 470 Spare Parts Catalog English Italian Spanish German French Polish Russian
Claas Balers VARIANT 465460 / RF / RC Spare Parts Catalog English Italian Spanish German French Polish Russian
Claas Balers VARIANT 450 Spare Parts Catalog English Italian Spanish German French Polish Russian
Claas Balers VARIANT 385-380 / RF / RC Spare Parts Catalog English Italian Spanish German French Polish Russian
Claas Balers VARIANT 370 Spare Parts Catalog English Italian Spanish German French Polish Russian
Claas Balers VARIANT 365-360 / RF / Spare Parts Catalog English Italian Spanish German French Polish Russian
Claas Balers VARIANT 365 RC Spare Parts Catalog English Italian Spanish German French Polish Russian
Claas Balers VARIANT 350 Spare Parts Catalog English Italian Spanish German French Polish Russian
Claas Balers VARIANT 280/ RC Spare Parts Catalog English Italian Spanish German French Polish Russian
Claas Balers VARIANT 260 RC Spare Parts Catalog English Italian Spanish German French Polish Russian
Claas Balers VARIANT 180/ RC Spare Parts Catalog English Italian Spanish German French Polish Russian
Claas Balers Welding parts VARIANT Spare Parts Catalog English Italian Spanish German French Polish Russian
Claas Combines AVERO 240 Spare Parts Catalog English Italian Spanish German French Polish Russian
Claas Combines AVERO 160 Spare Parts Catalog English Italian Spanish German French Polish Russian
Claas Combines MC HBO Spare Parts Catalog English Italian Spanish German French Polish Russian
Claas Combines MC HIDO,'MC HBO PLUS Spare Parts Catalog English Italian Spanish German French Polish Russian
Claas Combines C325-C350 Spare Parts Catalog English Italian Spanish German French Polish Russian
Claas Combines COMMANDOR 228-116 CS Spare Parts Catalog English Italian Spanish German French Polish Russian
Claas Combines COMMANDOR 115 CS Spare Parts Catalog English Italian Spanish German French Polish Russian
Claas Combines COMMANDOR 114 CS Spare Parts Catalog English Italian Spanish German French Polish Russian
Claas Combines Welding parts COMMANDOR Spare Parts Catalog English Italian Spanish German French Polish Russian
Claas Combines Msss Spare Parts Catalog English Italian Spanish German French Polish Russian
Claas Combines cp S40 Spare Parts Catalog English Italian Spanish German French Polish Russian
Claas Combines cp S20 Spare Parts Catalog English Italian Spanish German French Polish Russian
Claas Combines CORN HEAD 18-20 Spare Parts Catalog English Italian Spanish German French Polish Russian
Claas Combines CORN HEAD – 8-30,'C Spare Parts Catalog English Italian Spanish German French Polish Russian
Claas Combines CORN HEAD 16-30 Spare Parts Catalog English Italian Spanish German French Polish Russian
Claas Combines CORN HEAD 12-06 Spare Parts Catalog English Italian Spanish German French Polish Russian
Claas Combines CORN HEAD 12/8/6 ROW Spare Parts Catalog English Italian Spanish German French Polish Russian
Claas Combines Welding pats Maize picker, North America Spare Parts Catalog English Italian Spanish German French Polish Russian
Claas Combines CORIO 1275-1270 C CONSPEED Spare Parts Catalog English Italian Spanish German French Polish Russian
Claas Combines CORIO 890-670 C CONSPEED Spare Parts Catalog English Italian Spanish German French Polish Russian
Claas Combines CORIO 880-670 FC CONSPEED Spare Parts Catalog English Italian Spanish German French Polish Russian
Claas Combines CORIO 880-670 FC Spare Parts Catalog English Italian Spanish German French Polish Russian
Claas Combines CORIO 875-670 C Spare Parts Catalog English Italian Spanish German French Polish Russian
Claas Combines CORIO 575-470 C Spare Parts Catalog English Italian Spanish German French Polish Russian
Claas Combines CONSPEED FC Spare Parts Catalog English Italian Spanish German French Polish Russian
Claas Combines CONSPEED 12 C, LEXION Spare Parts Catalog English Italian Spanish German French Polish Russian
Claas Combines CONSPEED 8-75/70 FC LINEAR Spare Parts Catalog English Italian Spanish German French Polish Russian
Claas Combines CONSPEED 8-75/70 C LINEAR Spare Parts Catalog English Italian Spanish German French Polish Russian
Claas Combines CONSPEED 8/6-80/75/70-FC Spare Parts Catalog English Italian Spanish German French Polish Russian
Claas Combines CONSPEED LINEAR Spare Parts Catalog English Italian Spanish German French Polish Russian
Claas Combines CONSPEED 8 / E Spare Parts Catalog English Italian Spanish German French Polish Russian
Claas Combines CONSPEED 6-75/70 FC LINEAR Spare Parts Catalog English Italian Spanish German French Polish Russian
Claas Combines CONSPEED 6-75/70 C LINEAR Spare Parts Catalog English Italian Spanish German French Polish Russian
Claas Combines CONSPEED 6-75'70 C Spare Parts Catalog English Italian Spanish German French Polish Russian
Claas Combines CONSPEED E Rigid MEDION Spare Parts Catalog English Italian Spanish German French Polish Russian
Claas Combines CONSPEEDE MEDION Spare Parts Catalog English Italian Spanish German French Polish Russian
Claas Combines Maize picker SR 80-75 Spare Parts Catalog English Italian Spanish German French Polish Russian
Claas Combines Maize picker ER 90 / SR 80-70 SL Spare Parts Catalog English Italian Spanish German French Polish Russian
Claas Combines Maize picker ER 80-70 Spare Parts Catalog English Italian Spanish German French Polish Russian
Claas Combines Maize picker E-70F ,'75F / 80F Spare Parts Catalog English Italian Spanish German French Polish Russian
Claas Combines Maize picker E-70F Spare Parts Catalog English Italian Spanish German French Polish Russian
Claas Combines Maize picker SR 90 / SR 80-70 SL Spare Parts Catalog English Italian Spanish German French Polish Russian
Claas Combines Maize picker SR 80-75 S Spare Parts Catalog English Italian Spanish German French Polish Russian
Claas Combines Maize picker "R 80-75 S Spare Parts Catalog English Italian Spanish German French Polish Russian
Claas Combines Maize picker "R 80-70 SL Spare Parts Catalog English Italian Spanish German French Polish Russian
Claas Combines MP 8 FC/F Spare Parts Catalog English Italian Spanish German French Polish Russian
Claas Combines MP 6/ C/F/FC/MP5,'C Spare Parts Catalog English Italian Spanish German French Polish Russian
Claas Combines MULTIMASTER ER 80-70 Spare Parts Catalog English Italian Spanish German French Polish Russian
Claas Combines M460 MAIZE PICKER Spare Parts Catalog English Italian Spanish German French Polish Russian
Claas Combines Welding parts Maize picker Spare Parts Catalog English Italian Spanish German French Polish Russian
Claas Combines CROP TIGER 40 WHEEL Spare Parts Catalog English Italian Spanish German French Polish Russian
Claas Combines CROP TIGER 40 TERRA TRAC MID Spare Parts Catalog English Italian Spanish German French Polish Russian
Claas Combines CROP TIGER 40 TERRA TRAC Spare Parts Catalog English Italian Spanish German French Polish Russian
Claas Combines CROP TIGER 40 M4so Spare Parts Catalog English Italian Spanish German French Polish Russian
Claas Combines CROP TIGER 30 WHEEL Spare Parts Catalog English Italian Spanish German French Polish Russian
Claas Combines CROP TIGER 30 TERRA TRAC MID Spare Parts Catalog English Italian Spanish German French Polish Russian
Claas Combines CROP TIGER 30 TERRA TRAC Spare Parts Catalog English Italian Spanish German French Polish Russian
Claas Combines MAKSAS 40 TT MID Spare Parts Catalog English Italian Spanish German French Polish Russian
Claas Combines DOMINATOR 370 Spare Parts Catalog English Italian Spanish German French Polish Russian
Claas Combines DOMINATOR 150-130 Spare Parts Catalog English Italian Spanish German French Polish Russian
Claas Combines DOMINATOR 130 Spare Parts Catalog English Italian Spanish German French Polish Russian
Claas Combines DOMINATOR 128-108 VX Spare Parts Catalog English Italian Spanish German French Polish Russian
Claas Combines DOMINATOR 118-108 Spare Parts Catalog English Italian Spanish German French Polish Russian
Claas Combines DOMINATOR IDE Spare Parts Catalog English Italian Spanish German French Polish Russian
Claas Combines DOMINATOR 98 VX Spare Parts Catalog English Italian Spanish German French Polish Russian
Claas Combines DOMINATOR 96 Spare Parts Catalog English Italian Spanish German French Polish Russian
Claas Combines DOMINATOR 88 VX Spare Parts Catalog English Italian Spanish German French Polish Russian
Claas Combines DOMINATOR 88 Spare Parts Catalog English Italian Spanish German French Polish Russian
Claas Combines DOMINATOR 86 Spare Parts Catalog English Italian Spanish German French Polish Russian
Claas Combines DOMINATOR 78 Spare Parts Catalog English Italian Spanish German French Polish Russian
Claas Combines DOMINATOR 76 Spare Parts Catalog English Italian Spanish German French Polish Russian
Claas Combines DOMINATOR 68 R / SR Spare Parts Catalog English Italian Spanish German French Polish Russian
Claas Combines DOMINATOR 68 Spare Parts Catalog English Italian Spanish German French Polish Russian
Claas Combines DOMINATOR 66 Spare Parts Catalog English Italian Spanish German French Polish Russian
Claas Combines DOMINATOR 5848 sp Spare Parts Catalog English Italian Spanish German French Polish Russian
Claas Combines DOMINATOR 48 Spare Parts Catalog English Italian Spanish German French Polish Russian
Claas Combines DOMINATOR 40 WHEEL Spare Parts Catalog English Italian Spanish German French Polish Russian
Claas Combines DOMINATOR 40 TERRA-TRAC Spare Parts Catalog English Italian Spanish German French Polish Russian
Claas Combines DOMINATOR 38 Spare Parts Catalog English Italian Spanish German French Polish Russian
Claas Combines Welding parts DOMINATOR Spare Parts Catalog English Italian Spanish German French Polish Russian
Claas Combines DOMINATOR 98 Spare Parts Catalog English Italian Spanish German French Polish Russian
Claas Combines CONVIO 1380-770 Spare Parts Catalog English Italian Spanish German French Polish Russian
Claas Combines CONVIO FLEX 1380-770 Spare Parts Catalog English Italian Spanish German French Polish Russian
Claas Combines MA-FLO 1200-750 Spare Parts Catalog English Italian Spanish German French Polish Russian
Claas Combines MA-FLEX 1200-1050 Spare Parts Catalog English Italian Spanish German French Polish Russian
Claas Combines MA-FLEX 930-770 Spare Parts Catalog English Italian Spanish German French Polish Russian
Claas Combines V1380-VID80 Spare Parts Catalog English Italian Spanish German French Polish Russian
Claas Combines 1'1230-1'1050 Spare Parts Catalog English Italian Spanish German French Polish Russian
Claas Combines GRAIN HEAD VARIO V535-530 Spare Parts Catalog English Italian Spanish German French Polish Russian
Claas Combines GRAIN HEAD GS30-525 Spare Parts Catalog English Italian Spanish German French Polish Russian
Claas Combines GRAIN HEAD 18-30 Spare Parts Catalog English Italian Spanish German French Polish Russian
Claas Combines FLEX HEAD F9D0, F750, F530-525, F30-20 Spare Parts Catalog English Italian Spanish German French Polish Russian
Claas Combines FLEX HEAD F540-535 / G540-S3S Spare Parts Catalog English Italian Spanish German French Polish Russian
Claas Combines Welding parts Header, North America Spare Parts Catalog English Italian Spanish German French Polish Russian
Claas Combines CONVIO 1380-770 Spare Parts Catalog English Italian Spanish German French Polish Russian
Claas Combines CONVIO FLEX 1380-770 Spare Parts Catalog English Italian Spanish German French Polish Russian
Claas Combines MA-FLO 1200-750 Spare Parts Catalog English Italian Spanish German French Polish Russian
Claas Combines MA-FLEX 1350-1050 LEXION,'TUCANO Spare Parts Catalog English Italian Spanish German French Polish Russian
Claas Combines MA-FLEX 930-560 Spare Parts Catalog English Italian Spanish German French Polish Russian
Claas Combines MA-FLEX 620-560 Spare Parts Catalog English Italian Spanish German French Polish Russian
Claas Combines V1380-VID80 Spare Parts Catalog English Italian Spanish German French Polish Russian
Claas Combines V13so-V1050 LEXION Spare Parts Catalog English Italian Spanish German French Polish Russian
Claas Combines Vioso-V540 VARIO LEXION / TUCANO Spare Parts Catalog English Italian Spanish German French Polish Russian
Claas Combines vno-vsoo / cg30-csso Spare Parts Catalog English Italian Spanish German French Polish Russian
Claas Combines V9D0-V540 VARIO LEXION Spare Parts Catalog English Italian Spanish German French Polish Russian
Claas Combines C12D0 F12D0 LEXION Spare Parts Catalog English Italian Spanish German French Polish Russian
Claas Combines cgoo-C450 LEXION Spare Parts Catalog English Italian Spanish German French Polish Russian
Claas Combines C9Do-C390 LEXION Spare Parts Catalog English Italian Spanish German French Polish Russian
Claas Combines C9Do-C3D0 MEGA / MEDION / DO Spare Parts Catalog English Italian Spanish German French Polish Russian
Claas Combines cgoo-C3D0 RAPE Spare Parts Catalog English Italian Spanish German French Polish Russian
Claas Combines C7so-C450 RAPE LEXION Spare Parts Catalog English Italian Spanish German French Polish Russian
Claas Combines C7so-C450 RAPE DO Spare Parts Catalog English Italian Spanish German French Polish Russian
Claas Combines C680-csso Spare Parts Catalog English Italian Spanish German French Polish Russian
Claas Combines C540-C450 folding LEXION Spare Parts Catalog English Italian Spanish German French Polish Russian
Claas Combines C4go-C370 LEXION / TUCANO Spare Parts Catalog English Italian Spanish German French Polish Russian
Claas Combines C4so-C3D0 DOMINATOR Spare Parts Catalog English Italian Spanish German French Polish Russian
Claas Combines C450 folding MEGA / MEDION / DO Spare Parts Catalog English Italian Spanish German French Polish Russian
Claas Combines C32s-C350 Spare Parts Catalog English Italian Spanish German French Polish Russian
Claas Combines C260 CUTTERSAR Spare Parts Catalog English Italian Spanish German French Polish Russian
Claas Combines swo-S450 SOJA LEXION Spare Parts Catalog English Italian Spanish German French Polish Russian
Claas Combines swo-S450 SOJA LEXION/TUCANO Spare Parts Catalog English Italian Spanish German French Polish Russian
Claas Combines swo-S450 SOJA MEGA / MEDION / DOMINATOR Spare Parts Catalog English Italian Spanish German French Polish Russian
Claas Combines SUNSPEED 16-70 / 12-75 12-70 / 8-75 / 8-70 Spare Parts Catalog English Italian Spanish German French Polish Russian
Claas Combines SW CROP TIGER 40 WHEEL Spare Parts Catalog English Italian Spanish German French Polish Russian
Claas Combines Welding parts Cutterbar Spare Parts Catalog English Italian Spanish German French Polish Russian
Claas Combines LEXION 8900-8700 Spare Parts Catalog English Italian Spanish German French Polish Russian
Claas Combines LEXION 7700-7400 Spare Parts Catalog English Italian Spanish German French Polish Russian
Claas Combines LEXION 6900-6600 Spare Parts Catalog English Italian Spanish German French Polish Russian
Claas Combines LEXION 5500-5300 Spare Parts Catalog English Italian Spanish German French Polish Russian
Claas Combines LEXION 780-770 Spare Parts Catalog English Italian Spanish German French Polish Russian
Claas Combines LEXION 770 Spare Parts Catalog English Italian Spanish German French Polish Russian
Claas Combines LEXION 760 Spare Parts Catalog English Italian Spanish German French Polish Russian
Claas Combines LEXION 760-740 Spare Parts Catalog English Italian Spanish German French Polish Russian
Claas Combines LEXION 750-740 Spare Parts Catalog English Italian Spanish German French Polish Russian
Claas Combines LEXION 750-740, Australia Spare Parts Catalog English Italian Spanish German French Polish Russian
Claas Combines LEXION 750 MONTANA Spare Parts Catalog English Italian Spanish German French Polish Russian
Claas Combines LEXION 670-640 Spare Parts Catalog English Italian Spanish German French Polish Russian
Claas Combines LEXION 670 MONTANA Spare Parts Catalog English Italian Spanish German French Polish Russian
Claas Combines LEXION 670 Spare Parts Catalog English Italian Spanish German French Polish Russian
Claas Combines LEXION 630-620 Spare Parts Catalog English Italian Spanish German French Polish Russian
Claas Combines LEXION 630 MONTANA Spare Parts Catalog English Italian Spanish German French Polish Russian
Claas Combines LEXION SOO Spare Parts Catalog English Italian Spanish German French Polish Russian
Claas Combines LEXION 580k, Australia Spare Parts Catalog English Italian Spanish German French Polish Russian
Claas Combines LEXION 580 Spare Parts Catalog English Italian Spanish German French Polish Russian
Claas Combines LEXION 570 MONTANA Spare Parts Catalog English Italian Spanish German French Polish Russian
Claas Combines LEXION 570 Spare Parts Catalog English Italian Spanish German French Polish Russian
Claas Combines LEXION 560-550 MONTANA Spare Parts Catalog English Italian Spanish German French Polish Russian
Claas Combines LEXION 560-540 Spare Parts Catalog English Italian Spanish German French Polish Russian
Claas Combines LEXION 530-520 MONTANA Spare Parts Catalog English Italian Spanish German French Polish Russian
Claas Combines LEXION 530-510 Spare Parts Catalog English Italian Spanish German French Polish Russian
Claas Combines LEXION 480 TERRA-TRAC Spare Parts Catalog English Italian Spanish German French Polish Russian
Claas Combines LEXION 480 Spare Parts Catalog English Italian Spanish German French Polish Russian
Claas Combines LEXION 470 MONTANA Spare Parts Catalog English Italian Spanish German French Polish Russian
Claas Combines LEXION 470 Spare Parts Catalog English Italian Spanish German French Polish Russian
Claas Combines LEXION 460-450 TERRA-TRAC Spare Parts Catalog English Italian Spanish German French Polish Russian
Claas Combines LEXION 460_440 Spare Parts Catalog English Italian Spanish German French Polish Russian
Claas Combines LEXION 430-420 MONTANA Spare Parts Catalog English Italian Spanish German French Polish Russian
Claas Combines LEXION 430-415 Spare Parts Catalog English Italian Spanish German French Polish Russian
Claas Combines LEXION 430-410 Spare Parts Catalog English Italian Spanish German French Polish Russian
Claas Combines LEX10N410-405 Spare Parts Catalog English Italian Spanish German French Polish Russian
Claas Combines crawler track 480460 TEG Spare Parts Catalog English Italian Spanish German French Polish Russian
Claas Combines crawler track 470 TEG Spare Parts Catalog English Italian Spanish German French Polish Russian
Claas Combines crawler track 450440 TEG Spare Parts Catalog English Italian Spanish German French Polish Russian
Claas Combines crawler track 430-41 S TEG Spare Parts Catalog English Italian Spanish German French Polish Russian
Claas Combines Welding parts LEXION Spare Parts Catalog English Italian Spanish German French Polish Russian
Claas Combines LEXION 8300-8500 Spare Parts Catalog English Italian Spanish German French Polish Russian
Claas Combines LEXION 7500-7400 Spare Parts Catalog English Italian Spanish German French Polish Russian
Claas Combines LEXION 6800 Spare Parts Catalog English Italian Spanish German French Polish Russian
Claas Combines LEXION 780-760 Spare Parts Catalog English Italian Spanish German French Polish Russian
Claas Combines LEXION 770-760 Spare Parts Catalog English Italian Spanish German French Polish Russian
Claas Combines LEXION 750-730 Spare Parts Catalog English Italian Spanish German French Polish Russian
Claas Combines LEXION 670 Spare Parts Catalog English Italian Spanish German French Polish Russian
Claas Combines LEXION 595-590 R Spare Parts Catalog English Italian Spanish German French Polish Russian
Claas Combines LEXION 585-560 R Spare Parts Catalog English Italian Spanish German French Polish Russian
Claas Combines LEXION 475 R Spare Parts Catalog English Italian Spanish German French Polish Russian
Claas Combines LEXION 575-560 R Spare Parts Catalog English Italian Spanish German French Polish Russian
Claas Combines LEXION 570 Spare Parts Catalog English Italian Spanish German French Polish Russian
Claas Combines LEXION 560 Spare Parts Catalog English Italian Spanish German French Polish Russian
Claas Combines LEXION 485 Spare Parts Catalog English Italian Spanish German French Polish Russian
Claas Combines LEXION 480 R Spare Parts Catalog English Italian Spanish German French Polish Russian
Claas Combines LEXION 470 R,' 460 Spare Parts Catalog English Italian Spanish German French Polish Russian
Claas Combines LEXION 465 Spare Parts Catalog English Italian Spanish German French Polish Russian
Claas Combines LEXION 460 Spare Parts Catalog English Italian Spanish German French Polish Russian
Claas Combines LEXION 450 Spare Parts Catalog English Italian Spanish German French Polish Russian
Claas Combines Welding pats LEXION, North America Spare Parts Catalog English Italian Spanish German French Polish Russian
Claas Combines MEDION Spare Parts Catalog English Italian Spanish German French Polish Russian
Claas Combines MEDION 330-310 Spare Parts Catalog English Italian Spanish German French Polish Russian
Claas Combines MEDION 330 H Spare Parts Catalog English Italian Spanish German French Polish Russian
Claas Combines Welding parts MEDION Spare Parts Catalog English Italian Spanish German French Polish Russian
Claas Combines MEGA 370-360 Spare Parts Catalog English Italian Spanish German French Polish Russian
Claas Combines MEGA 350 Spare Parts Catalog English Italian Spanish German French Polish Russian
Claas Combines MEGA 218 / 208 Spare Parts Catalog English Italian Spanish German French Polish Russian
Claas Combines MEGA 204 pr,q Spare Parts Catalog English Italian Spanish German French Polish Russian
Claas Combines MEGA Spare Parts Catalog English Italian Spanish German French Polish Russian
Claas Combines Welding parts MEGA Spare Parts Catalog English Italian Spanish German French Polish Russian
Claas Combines SWATH up 450 NA Spare Parts Catalog English Italian Spanish German French Polish Russian
Claas Combines RAKE up P516-514 Spare Parts Catalog English Italian Spanish German French Polish Russian
Claas Combines RAKE up P13 Spare Parts Catalog English Italian Spanish German French Polish Russian
Claas Combines SWATH up 450 Spare Parts Catalog English Italian Spanish German French Polish Russian
Claas Combines RAKE up Spare Parts Catalog English Italian Spanish German French Polish Russian
Claas Combines RAKE up P420 Spare Parts Catalog English Italian Spanish German French Polish Russian
Claas Combines TUCANO 580-570 Spare Parts Catalog English Italian Spanish German French Polish Russian
Claas Combines TUCANO 560-550 Spare Parts Catalog English Italian Spanish German French Polish Russian
Claas Combines TUCANO 560 Spare Parts Catalog English Italian Spanish German French Polish Russian
Claas Combines TUCANO 480470 Spare Parts Catalog English Italian Spanish German French Polish Russian
Claas Combines TUCANO 460 Spare Parts Catalog English Italian Spanish German French Polish Russian
Claas Combines TUCANO 450-430 Spare Parts Catalog English Italian Spanish German French Polish Russian
Claas Combines TUCANO 450-440 Spare Parts Catalog English Italian Spanish German French Polish Russian
Claas Combines TUCANO 430-420 Spare Parts Catalog English Italian Spanish German French Polish Russian
Claas Combines TUCANO 430 MONTANA Spare Parts Catalog English Italian Spanish German French Polish Russian
Claas Combines TUCANO Spare Parts Catalog English Italian Spanish German French Polish Russian
Claas Combines TUCANO Spare Parts Catalog English Italian Spanish German French Polish Russian
Claas Combines TUCANO 320 Spare Parts Catalog English Italian Spanish German French Polish Russian
Claas Combines Welding parts TUCANO Spare Parts Catalog English Italian Spanish German French Polish Russian
Claas Combines cutterbar trailer LEXION/TUCANO,'AVERO Spare Parts Catalog English Italian Spanish German French Polish Russian
Claas Combines cutterbar trailer LEXION/TUCANO Spare Parts Catalog English Italian Spanish German French Polish Russian
Claas Combines cutterbar trailer LEXION/TUCANO / Russia Spare Parts Catalog English Italian Spanish German French Polish Russian
Claas Combines Cutterbar trailer MEGA / Russia Spare Parts Catalog English Italian Spanish German French Polish Russian
Claas Combines cutterbar trailer DOMINATOR Spare Parts Catalog English Italian Spanish German French Polish Russian
Claas Combines cutterbar trailer CROP TIGER 40 Spare Parts Catalog English Italian Spanish German French Polish Russian
Claas Combines Cutterbar trailer E,8m – 5,Em Spare Parts Catalog English Italian Spanish German French Polish Russian
Claas Easy MOBILE / VA / Isoaus Spare Parts Catalog English Italian Spanish German French Polish Russian
Claas Easy CROP SENSOR Spare Parts Catalog English Italian Spanish German French Polish Russian
Claas Easy CROP SENSOR ISARIA Spare Parts Catalog English Italian Spanish German French Polish Russian
Claas Easy GPS COPILOT SIO Spare Parts Catalog English Italian Spanish German French Polish Russian
Claas Easy GPS COPILOT Spare Parts Catalog English Italian Spanish German French Polish Russian
Claas Easy GPS COPILOT S7 omnistar Spare Parts Catalog English Italian Spanish German French Polish Russian
Claas Easy GPS COPILOT S7 Spare Parts Catalog English Italian Spanish German French Polish Russian
Claas Easy GPS PILOT – steer readyS7 ,'SIO CLA_AS ab 2015 Spare Parts Catalog English Italian Spanish German French Polish Russian
Claas Easy GPS COPILOT S3 Spare Parts Catalog English Italian Spanish German French Polish Russian
Claas Easy GPS COPILOT TS Spare Parts Catalog English Italian Spanish German French Polish Russian
Claas Easy GPS PILOT – Hydraulik S7 / SIO – make from other manufac Spare Parts Catalog English Italian Spanish German French Polish Russian
Claas Easy GPS PILOT – Hydraulik S7/S10 CLA_AS Spare Parts Catalog English Italian Spanish German French Polish Russian
Claas Easy GPS PILOT – Steer ready S7 SIO – make from other manuf Spare Parts Catalog English Italian Spanish German French Polish Russian
Claas Easy GPS PILOT – steer ready S7/S10 Spare Parts Catalog English Italian Spanish German French Polish Russian
Claas Easy GPS PILOT MOBILE Spare Parts Catalog English Italian Spanish German French Polish Russian
Claas Easy GPS PILOT FLEX – make from other manufact Spare Parts Catalog English Italian Spanish German French Polish Russian
Claas Easy GPS PILOT FLEX S7/S10 CLA_AS Spare Parts Catalog English Italian Spanish German French Polish Russian
Claas Easy GPS PILOTS3 – CLA_AS Spare Parts Catalog English Italian Spanish German French Polish Russian
Claas Easy GPS PILOT S3 – make from other manufacturer Spare Parts Catalog English Italian Spanish German French Polish Russian
Claas Easy GPS PILOTTS Spare Parts Catalog English Italian Spanish German French Polish Russian
Claas Easy REFERENZSTATION Spare Parts Catalog English Italian Spanish German French Polish Russian
Claas Easy RTK-FESTSTATION Spare Parts Catalog English Italian Spanish German French Polish Russian
Claas Easy RTK-REPEATER Spare Parts Catalog English Italian Spanish German French Polish Russian
Claas Easy Telematics Spare Parts Catalog English Italian Spanish German French Polish Russian
Claas Forage Harvesters ORSIS 750 3D Spare Parts Catalog English Italian Spanish German French Polish Russian
Claas Forage Harvesters ORNS 750 Spare Parts Catalog English Italian Spanish German French Polish Russian
Claas Forage Harvesters ORNS 635 Spare Parts Catalog English Italian Spanish German French Polish Russian
Claas Forage Harvesters 600 SD Spare Parts Catalog English Italian Spanish German French Polish Russian
Claas Forage Harvesters ORSIS6D0 Spare Parts Catalog English Italian Spanish German French Polish Russian
Claas Forage Harvesters ORNS 450 Spare Parts Catalog English Italian Spanish German French Polish Russian
Claas Forage Harvesters RU 600 CONTOUR / XTRA Spare Parts Catalog English Italian Spanish German French Polish Russian
Claas Forage Harvesters RU 600 CONTOUR Spare Parts Catalog English Italian Spanish German French Polish Russian
Claas Forage Harvesters RUBDO Spare Parts Catalog English Italian Spanish German French Polish Russian
Claas Forage Harvesters RU 450 XTRA Spare Parts Catalog English Italian Spanish German French Polish Russian
Claas Forage Harvesters RU 450 Spare Parts Catalog English Italian Spanish German French Polish Russian
Claas Forage Harvesters Maize header SR Spare Parts Catalog English Italian Spanish German French Polish Russian
Claas Forage Harvesters Maize header SR Spare Parts Catalog English Italian Spanish German French Polish Russian
Claas Forage Harvesters Maize header 4R Spare Parts Catalog English Italian Spanish German French Polish Russian
Claas Forage Harvesters Welding parts MG JAGUAR Spare Parts Catalog English Italian Spanish German French Polish Russian
Claas Forage Harvesters Welding parts MG JAGUAR 695-675 Spare Parts Catalog English Italian Spanish German French Polish Russian
Claas Forage Harvesters JAGUAR 990-930 Spare Parts Catalog English Italian Spanish German French Polish Russian
Claas Forage Harvesters JAGUAR 980-930 Spare Parts Catalog English Italian Spanish German French Polish Russian
Claas Forage Harvesters JAGUAR 990-960 TERRA TRAC Spare Parts Catalog English Italian Spanish German French Polish Russian
Claas Forage Harvesters JAGUAR 900-830 Spare Parts Catalog English Italian Spanish German French Polish Russian
Claas Forage Harvesters JAGUAR 880-830 Spare Parts Catalog English Italian Spanish German French Polish Russian
Claas Forage Harvesters JAGUAR 880-860 Spare Parts Catalog English Italian Spanish German French Polish Russian
Claas Forage Harvesters JAGUAR 840-820 Spare Parts Catalog English Italian Spanish German French Polish Russian
Claas Forage Harvesters JAGUAR 810 Spare Parts Catalog English Italian Spanish German French Polish Russian
Claas Forage Harvesters JAGUAR 800 Spare Parts Catalog English Italian Spanish German French Polish Russian
Claas Forage Harvesters JAGUAR 8700 / 8550 Spare Parts Catalog English Italian Spanish German French Polish Russian
Claas Forage Harvesters JAGUAR C Spare Parts Catalog English Italian Spanish German French Polish Russian
Claas Forage Harvesters JAGUAR 695-685 SL Spare Parts Catalog English Italian Spanish German French Polish Russian
Claas Forage Harvesters JAGUAR 685 Spare Parts Catalog English Italian Spanish German French Polish Russian
Claas Forage Harvesters JAGUAR 682 Spare Parts Catalog English Italian Spanish German French Polish Russian
Claas Forage Harvesters JAGUAR 85 Spare Parts Catalog English Italian Spanish German French Polish Russian
Claas Forage Harvesters JAGUAR / 675 Spare Parts Catalog English Italian Spanish German French Polish Russian
Claas Forage Harvesters JAGUAR 75 '71 Spare Parts Catalog English Italian Spanish German French Polish Russian
Claas Forage Harvesters JAGUAR El Spare Parts Catalog English Italian Spanish German French Polish Russian
Claas Forage Harvesters JAGUAR 51 Spare Parts Catalog English Italian Spanish German French Polish Russian
Claas Forage Harvesters JAGUAR 35 Spare Parts Catalog English Italian Spanish German French Polish Russian
Claas Forage Harvesters JAGUAR 25 Spare Parts Catalog English Italian Spanish German French Polish Russian
Claas Forage Harvesters Welding parts JAGUAR 980-820 Spare Parts Catalog English Italian Spanish German French Polish Russian
Claas Forage Harvesters Welding parts JAGUAR 800 / 695-675 Spare Parts Catalog English Italian Spanish German French Polish Russian
Claas Forage Harvesters Welding parts JAGUAR 85-51 Spare Parts Catalog English Italian Spanish German French Polish Russian
Claas Forage Harvesters PICK up 430 Spare Parts Catalog English Italian Spanish German French Polish Russian
Claas Forage Harvesters PICK up 380 Spare Parts Catalog English Italian Spanish German French Polish Russian
Claas Forage Harvesters PICK up 380 Spare Parts Catalog English Italian Spanish German French Polish Russian
Claas Forage Harvesters PICK up 380 HD Spare Parts Catalog English Italian Spanish German French Polish Russian
Claas Forage Harvesters PICK up 300 Spare Parts Catalog English Italian Spanish German French Polish Russian
Claas Forage Harvesters PICK up 300 HD Spare Parts Catalog English Italian Spanish German French Polish Russian
Claas Forage Harvesters PICK up 300 HD / PICK up 300 Spare Parts Catalog English Italian Spanish German French Polish Russian
Claas Forage Harvesters PICK up Spare Parts Catalog English Italian Spanish German French Polish Russian
Claas Forage Harvesters Welding parts pu JAGUAR Spare Parts Catalog English Italian Spanish German French Polish Russian
Claas Forage Harvesters cutterbar trailer Direct Disc ,'6DOP / / TOP Spare Parts Catalog English Italian Spanish German French Polish Russian
Claas Forage Harvesters TRAILER DIRECT DISC 610/520 Spare Parts Catalog English Italian Spanish German French Polish Russian
Claas Forage Harvesters cutterbar trailer DO 520, 1 AXLE Spare Parts Catalog English Italian Spanish German French Polish Russian
Claas Forage Harvesters DIRECT DISC6D0/ Spare Parts Catalog English Italian Spanish German French Polish Russian
Claas Forage Harvesters DIRECT DISC 610 Spare Parts Catalog English Italian Spanish German French Polish Russian
Claas Forage Harvesters DIRECT DISC spn Spare Parts Catalog English Italian Spanish German French Polish Russian
Claas Forage Harvesters DIRECT DISC spn CONTOUR Spare Parts Catalog English Italian Spanish German French Polish Russian
Claas Forage Harvesters FSW 5,145M Spare Parts Catalog English Italian Spanish German French Polish Russian
Claas Forage Harvesters MKS J880-820 Spare Parts Catalog English Italian Spanish German French Polish Russian
Claas Forage Harvesters LKS JE90-E75 Spare Parts Catalog English Italian Spanish German French Polish Russian
Claas Forage Harvesters GPS J880-820 Spare Parts Catalog English Italian Spanish German French Polish Russian
Claas Forage Harvesters GPS JE95-E75 Spare Parts Catalog English Italian Spanish German French Polish Russian
Claas Loader Wagons CARGOS 9600 / 9400 Spare Parts Catalog English Italian Spanish German French Polish Russian
Claas Loader Wagons CARGOS 8500/8400/8300 Spare Parts Catalog English Italian Spanish German French Polish Russian
Claas Loader Wagons CARGOS 760 750 740 Spare Parts Catalog English Italian Spanish German French Polish Russian
Claas Loader Wagons Welding parts CARGOS Spare Parts Catalog English Italian Spanish German French Polish Russian
Claas Loader Wagons QUANTUM S / S S Spare Parts Catalog English Italian Spanish German French Polish Russian
Claas Loader Wagons QUANTUM s-47D0 S Spare Parts Catalog English Italian Spanish German French Polish Russian
Claas Loader Wagons QUANTUM S8DOP / 58DOP / P Spare Parts Catalog English Italian Spanish German French Polish Russian
Claas Loader Wagons QUANTUM S8DOP / E5DOP / 55DOP / 55DOGT / 45DOP Spare Parts Catalog English Italian Spanish German French Polish Russian
Claas Loader Wagons QUANTUM 5500-4500 S Spare Parts Catalog English Italian Spanish German French Polish Russian
Claas Loader Wagons QUANTUM 5500-4500 P Spare Parts Catalog English Italian Spanish German French Polish Russian
Claas Loader Wagons QUANTUM K P K,' P Spare Parts Catalog English Italian Spanish German French Polish Russian
Claas Loader Wagons QUANTUM 3500 K P S Spare Parts Catalog English Italian Spanish German French Polish Russian
Claas Loader Wagons QUANTUM 2500 K/ P Spare Parts Catalog English Italian Spanish German French Polish Russian
Claas Loader Wagons Welding parts QUANTUM Spare Parts Catalog English Italian Spanish German French Polish Russian
Claas Loader Wagons SPRINT 5DD0-4DD0 S Spare Parts Catalog English Italian Spanish German French Polish Russian
Claas Loader Wagons SPRINT 5DD0-4DD0 P Spare Parts Catalog English Italian Spanish German French Polish Russian
Claas Loader Wagons SPRINT 445-335 S Spare Parts Catalog English Italian Spanish German French Polish Russian
Claas Loader Wagons SPRINT 445-335 P Spare Parts Catalog English Italian Spanish German French Polish Russian
Claas Loader Wagons SPRINT 445 U Spare Parts Catalog English Italian Spanish German French Polish Russian
Claas Loader Wagons SPRINT 445 K Spare Parts Catalog English Italian Spanish German French Polish Russian
Claas Loader Wagons SPRINT 440-330 U Spare Parts Catalog English Italian Spanish German French Polish Russian
Claas Loader Wagons SPRINT 440-330 S Spare Parts Catalog English Italian Spanish German French Polish Russian
Claas Loader Wagons SPRINT 440-260 P Spare Parts Catalog English Italian Spanish German French Polish Russian
Claas Loader Wagons SPRINT 440-260 K Spare Parts Catalog English Italian Spanish German French Polish Russian
Claas Loader Wagons SPRINT 434-324 K Spare Parts Catalog English Italian Spanish German French Polish Russian
Claas Loader Wagons SPRINT 320-300 K,' 300 T Spare Parts Catalog English Italian Spanish German French Polish Russian
Claas Loader Wagons SPRINT 300 G Spare Parts Catalog English Italian Spanish German French Polish Russian
Claas Loader Wagons SPRINT 'T Spare Parts Catalog English Italian Spanish German French Polish Russian
Claas Loader Wagons Welding parts SPRINT Spare Parts Catalog English Italian Spanish German French Polish Russian
Claas Micellaneous CTlC/CTlC28DO Spare Parts Catalog English Italian Spanish German French Polish Russian
Claas Micellaneous CTIC 2.0 28002.0 Spare Parts Catalog English Italian Spanish German French Polish Russian
Claas Micellaneous LUBRICANTS AND OPERATING MATERIALS Spare Parts Catalog English Italian Spanish German French Polish Russian
Claas Micellaneous Net, Twine, Stretchfilm Spare Parts Catalog English Italian Spanish German French Polish Russian
Claas Micellaneous AQUA NON STOP COMFORT Spare Parts Catalog English Italian Spanish German French Polish Russian
Claas Micellaneous AQUA NON STOP Spare Parts Catalog English Italian Spanish German French Polish Russian
Claas Micellaneous Standard parts Spare Parts Catalog English Italian Spanish German French Polish Russian
Claas Micellaneous Retrofit kit Spare Parts Catalog English Italian Spanish German French Polish Russian
Claas Micellaneous Sealants, adhesives & pastes Spare Parts Catalog English Italian Spanish German French Polish Russian
Claas Micellaneous Glass Catalog Spare Parts Catalog English Italian Spanish German French Polish Russian
Claas Micellaneous Special tools / Diagnosis tools Spare Parts Catalog English Italian Spanish German French Polish Russian
Claas Micellaneous Standard tools / Standard equipment Spare Parts Catalog English Italian Spanish German French Polish Russian
Claas Micellaneous CABLE PLUG CONNECTORS Spare Parts Catalog English Italian Spanish German French Polish Russian
Claas Micellaneous TYRE LIFT Spare Parts Catalog English Italian Spanish German French Polish Russian
Claas Mowers CORTO 8100 T Spare Parts Catalog English Italian Spanish German French Polish Russian
Claas Mowers CORTO 8100 F Spare Parts Catalog English Italian Spanish German French Polish Russian
Claas Mowers CORTO 3200 F PROFIL Spare Parts Catalog English Italian Spanish German French Polish Russian
Claas Mowers CORTO 3200 F,'FN Profil Spare Parts Catalog English Italian Spanish German French Polish Russian
Claas Mowers CORTO 3200 CONTOUR Spare Parts Catalog English Italian Spanish German French Polish Russian
Claas Mowers CORTO 3150 F PROFIL Spare Parts Catalog English Italian Spanish German French Polish Russian
Claas Mowers CORTO 31 Spare Parts Catalog English Italian Spanish German French Polish Russian
Claas Mowers CORTO 3100 Spare Parts Catalog English Italian Spanish German French Polish Russian
Claas Mowers CORTO 2800 F Profil Spare Parts Catalog English Italian Spanish German French Polish Russian
Claas Mowers CORTO 310 s / N Spare Parts Catalog English Italian Spanish German French Polish Russian
Claas Mowers CORTO 310/285 F Spare Parts Catalog English Italian Spanish German French Polish Russian
Claas Mowers CORTO 300 Spare Parts Catalog English Italian Spanish German French Polish Russian
Claas Mowers CORTO 290 FS Spare Parts Catalog English Italian Spanish German French Polish Russian
Claas Mowers CORTO 290 FN / F Spare Parts Catalog English Italian Spanish German French Polish Russian
Claas Mowers CORTO 280-240 D Spare Parts Catalog English Italian Spanish German French Polish Russian
Claas Mowers CORTO 275 F PROFIL Spare Parts Catalog English Italian Spanish German French Polish Russian
Claas Mowers CORTO 270 SC S N,' NC Spare Parts Catalog English Italian Spanish German French Polish Russian
Claas Mowers CORTO 270 FN / F Spare Parts Catalog English Italian Spanish German French Polish Russian
Claas Mowers CORTO 270 FC Spare Parts Catalog English Italian Spanish German French Polish Russian
Claas Mowers CORTO 252 F Spare Parts Catalog English Italian Spanish German French Polish Russian
Claas Mowers CORTO 252 Spare Parts Catalog English Italian Spanish German French Polish Russian
Claas Mowers CORTO 250 F Spare Parts Catalog English Italian Spanish German French Polish Russian
Claas Mowers CORTO 250 Spare Parts Catalog English Italian Spanish German French Polish Russian
Claas Mowers CORTO / 190 Spare Parts Catalog English Italian Spanish German French Polish Russian
Claas Mowers CORTO 210-165 N/S Spare Parts Catalog English Italian Spanish German French Polish Russian
Claas Mowers CORTO 210 F Spare Parts Catalog English Italian Spanish German French Polish Russian
Claas Mowers Welding parts CORTO Spare Parts Catalog English Italian Spanish German French Polish Russian
Claas Mowers COUGAR 1400 Mower unit Spare Parts Catalog English Italian Spanish German French Polish Russian
Claas Mowers COUGAR 1400 Base machine Spare Parts Catalog English Italian Spanish German French Polish Russian
Claas Mowers DISCO 290-210 Spare Parts Catalog English Italian Spanish German French Polish Russian
Claas Mowers DISCO 9400 C DUO Spare Parts Catalog English Italian Spanish German French Polish Russian
Claas Mowers DISCO 9300 c,'RC DUO Spare Parts Catalog English Italian Spanish German French Polish Russian
Claas Mowers DISCO 9200 TREND/CONTOUR Spare Parts Catalog English Italian Spanish German French Polish Russian
Claas Mowers DISCO 9200 C AUTOSWATHER Spare Parts Catalog English Italian Spanish German French Polish Russian
Claas Mowers DISCO 9200 C / RC CONTOUR Spare Parts Catalog English Italian Spanish German French Polish Russian
Claas Mowers DISCO 9100 contour Spare Parts Catalog English Italian Spanish German French Polish Russian
Claas Mowers DISCO 9100 c,'RC contour Spare Parts Catalog English Italian Spanish German French Polish Russian
Claas Mowers DISCO 9100 C AUTOSWATHER Spare Parts Catalog English Italian Spanish German French Polish Russian
Claas Mowers DISCO 8700 C PLUS / C Spare Parts Catalog English Italian Spanish German French Polish Russian
Claas Mowers DISCO 260/ c Spare Parts Catalog English Italian Spanish German French Polish Russian
Claas Mowers DISCO 240 RC Spare Parts Catalog English Italian Spanish German French Polish Russian
Claas Mowers DISCO 8600 C DUO Spare Parts Catalog English Italian Spanish German French Polish Russian
Claas Mowers DISCO 210 RC Spare Parts Catalog English Italian Spanish German French Polish Russian
Claas Mowers DISCO 8550 PLUS Spare Parts Catalog English Italian Spanish German French Polish Russian
Claas Mowers Welding parts DISCO Spare Parts Catalog English Italian Spanish German French Polish Russian
Claas Mowers DISCO 8550 C-T / PLUS Spare Parts Catalog English Italian Spanish German French Polish Russian
Claas Mowers DISCO 8550 ce Spare Parts Catalog English Italian Spanish German French Polish Russian
Claas Mowers DISCO 8500 TREND,'CONTOUR Spare Parts Catalog English Italian Spanish German French Polish Russian
Claas Mowers DISCO 8500 c,'RC Spare Parts Catalog English Italian Spanish German French Polish Russian
Claas Mowers DISCO 8400 contour Spare Parts Catalog English Italian Spanish German French Polish Russian
Claas Mowers DISCO c,'RC contour Spare Parts Catalog English Italian Spanish German French Polish Russian
Claas Mowers DISCO 4000 TRC/TC CONTOUR Spare Parts Catalog English Italian Spanish German French Polish Russian
Claas Mowers DISCO 4000 TC CONTOUR Spare Parts Catalog English Italian Spanish German French Polish Russian
Claas Mowers DISCO 4DD0 CONTOUR Spare Parts Catalog English Italian Spanish German French Polish Russian
Claas Mowers DISCO 3900 TC Spare Parts Catalog English Italian Spanish German French Polish Russian
Claas Mowers DISCO 3900 Spare Parts Catalog English Italian Spanish German French Polish Russian
Claas Mowers DISCO 3600 TC / 3600 TRC Spare Parts Catalog English Italian Spanish German French Polish Russian
Claas Mowers DISCO 3600 FC / FRC PROFIL '3500 FC / FRC PROFIL Spare Parts Catalog English Italian Spanish German French Polish Russian
Claas Mowers DISCO 3600 F MOVE F PROFIL Spare Parts Catalog English Italian Spanish German French Polish Russian
Claas Mowers DISCO 3600 FC MOVE"'PROFIL / 3600 FRC MOVE,'PROFII Spare Parts Catalog English Italian Spanish German French Polish Russian
Claas Mowers DISCO 3600 F PROFIL / DISCO 3500 F PROFIL Spare Parts Catalog English Italian Spanish German French Polish Russian
Claas Mowers DISCO 3600 CONTOUR Spare Parts Catalog English Italian Spanish German French Polish Russian
Claas Mowers DISCO 3600 C / RC CONTOUR Spare Parts Catalog English Italian Spanish German French Polish Russian
Claas Mowers DISCO 3500 TC/TRC Spare Parts Catalog English Italian Spanish German French Polish Russian
Claas Mowers DISCO 3550 Spare Parts Catalog English Italian Spanish German French Polish Russian
Claas Mowers DISCO 3500 CONTOUR Spare Parts Catalog English Italian Spanish German French Polish Russian
Claas Mowers DISCO 3500 c,'RC contour Spare Parts Catalog English Italian Spanish German French Polish Russian
Claas Mowers DISCO 3450 / PLUS 340 Spare Parts Catalog English Italian Spanish German French Polish Russian
Claas Mowers DISCO 3200 TC / 3200 TRC / 3200 TCAS Spare Parts Catalog English Italian Spanish German French Polish Russian
Claas Mowers DISCO 3200 FC / FRC PROFIL Spare Parts Catalog English Italian Spanish German French Polish Russian
Claas Mowers DISCO 3200 F PROFIL Spare Parts Catalog English Italian Spanish German French Polish Russian
Claas Mowers DISCO 3200 CONTOUR Spare Parts Catalog English Italian Spanish German French Polish Russian
Claas Mowers DISCO 3200 C / RC CONTOUR Spare Parts Catalog English Italian Spanish German French Polish Russian
Claas Mowers DISCO 3200 F MOVE / 3200 F PROFIL Spare Parts Catalog English Italian Spanish German French Polish Russian
Claas Mowers DISCO 3200 FC MOVE"'PROFIL / 3200 FRC MOVE,'PROFII Spare Parts Catalog English Italian Spanish German French Polish Russian
Claas Mowers DISCO 3150 F Spare Parts Catalog English Italian Spanish German French Polish Russian
Claas Mowers DISCO 3150 Spare Parts Catalog English Italian Spanish German French Polish Russian
Claas Mowers DISCO 3150 c Spare Parts Catalog English Italian Spanish German French Polish Russian
Claas Mowers DISCO 3150 TC Spare Parts Catalog English Italian Spanish German French Polish Russian
Claas Mowers DISCO 3100 TC/TRC,'AS Spare Parts Catalog English Italian Spanish German French Polish Russian
Claas Mowers DISCO 3100 FC / FRC PROFIL Spare Parts Catalog English Italian Spanish German French Polish Russian
Claas Mowers DISCO 3100 F PROFIL Spare Parts Catalog English Italian Spanish German French Polish Russian
Claas Mowers DISCO 3100 CONTOUR Spare Parts Catalog English Italian Spanish German French Polish Russian
Claas Mowers DISCO 3100 c,'RC CONTOUR Spare Parts Catalog English Italian Spanish German French Polish Russian
Claas Mowers DISCO 3050 TC Spare Parts Catalog English Italian Spanish German French Polish Russian
Claas Mowers DISCO 3050 FC / F Spare Parts Catalog English Italian Spanish German French Polish Russian
Claas Mowers DISCO 3050 C PLUS / 3050 C Spare Parts Catalog English Italian Spanish German French Polish Russian
Claas Mowers DISCO 3050 / PLUS Spare Parts Catalog English Italian Spanish German French Polish Russian
Claas Mowers DISCO TC / PLUS Spare Parts Catalog English Italian Spanish German French Polish Russian
Claas Mowers DISCO 2800 CONTOUR Spare Parts Catalog English Italian Spanish German French Polish Russian
Claas Mowers DISCO 2800 C / RC CONTOUR Spare Parts Catalog English Italian Spanish German French Polish Russian
Claas Mowers DISCO 2750 C Spare Parts Catalog English Italian Spanish German French Polish Russian
Claas Mowers DISCO 2750 Spare Parts Catalog English Italian Spanish German French Polish Russian
Claas Mowers DISCO 2700 CONTOUR Spare Parts Catalog English Italian Spanish German French Polish Russian
Claas Mowers DISCO 2700 c,'RC CONTOUR Spare Parts Catalog English Italian Spanish German French Polish Russian
Claas Mowers DISCO C PLUS / RC Spare Parts Catalog English Italian Spanish German French Polish Russian
Claas Mowers DISCO 2650 / PLUS Spare Parts Catalog English Italian Spanish German French Polish Russian
Claas Mowers DISCO 1 c,'RC auslNEss Spare Parts Catalog English Italian Spanish German French Polish Russian
Claas Mowers DISCO 1100 TREND Spare Parts Catalog English Italian Spanish German French Polish Russian
Claas Mowers DISCO 32 28 24 Spare Parts Catalog English Italian Spanish German French Polish Russian
Claas Mowers DISCO 320 / 280 C Spare Parts Catalog English Italian Spanish German French Polish Russian
Claas Mowers DISCO 320 Spare Parts Catalog English Italian Spanish German French Polish Russian
Claas Mowers DISCO / c Spare Parts Catalog English Italian Spanish German French Polish Russian
Claas Mowers UNFARM CD 240-210 Spare Parts Catalog English Italian Spanish German French Polish Russian
Claas Mowers UNFARM CM 210 Spare Parts Catalog English Italian Spanish German French Polish Russian
Claas Mowers UNFARM CM 186 Spare Parts Catalog English Italian Spanish German French Polish Russian
Claas Mowers UNFARM CM 166 Spare Parts Catalog English Italian Spanish German French Polish Russian
Claas Mowers WM 275 C Spare Parts Catalog English Italian Spanish German French Polish Russian
Claas Mowers WM 210/ N/S Spare Parts Catalog English Italian Spanish German French Polish Russian
Claas Mowers WM 165/185 N/S Spare Parts Catalog English Italian Spanish German French Polish Russian
Claas Swathers LINER 4000 Spare Parts Catalog English Italian Spanish German French Polish Russian
Claas Swathers LINER 3600 Spare Parts Catalog English Italian Spanish German French Polish Russian
Claas Swathers LINER 3500 Spare Parts Catalog English Italian Spanish German French Polish Russian
Claas Swathers LINER 31 Spare Parts Catalog English Italian Spanish German French Polish Russian
Claas Swathers LINER 3000 Spare Parts Catalog English Italian Spanish German French Polish Russian
Claas Swathers LINER 2900 Spare Parts Catalog English Italian Spanish German French Polish Russian
Claas Swathers LINER 2800 Spare Parts Catalog English Italian Spanish German French Polish Russian
Claas Swathers LINER 2700 Spare Parts Catalog English Italian Spanish German French Polish Russian
Claas Swathers LINER 2600 Spare Parts Catalog English Italian Spanish German French Polish Russian
Claas Swathers LINER 1900/1800 PAIN Spare Parts Catalog English Italian Spanish German French Polish Russian
Claas Swathers LINER 1750 Spare Parts Catalog English Italian Spanish German French Polish Russian
Claas Swathers LINER 1700 Spare Parts Catalog English Italian Spanish German French Polish Russian
Claas Swathers LINER 1650 PAIN Spare Parts Catalog English Italian Spanish German French Polish Russian
Claas Swathers LINER 1600 Spare Parts Catalog English Italian Spanish German French Polish Russian
Claas Swathers LINER 1550 Spare Parts Catalog English Italian Spanish German French Polish Russian
Claas Swathers LINER 1550 PAIN Spare Parts Catalog English Italian Spanish German French Polish Russian
Claas Swathers LINER 1500 Spare Parts Catalog English Italian Spanish German French Polish Russian
Claas Swathers LINER 1250 PROFIL Spare Parts Catalog English Italian Spanish German French Polish Russian
Claas Swathers LINER 880 Spare Parts Catalog English Italian Spanish German French Polish Russian
Claas Swathers LINER PAIN Spare Parts Catalog English Italian Spanish German French Polish Russian
Claas Swathers LINER 780 Spare Parts Catalog English Italian Spanish German French Polish Russian
Claas Swathers LINER 770 Spare Parts Catalog English Italian Spanish German French Polish Russian
Claas Swathers LINER 760 HY Spare Parts Catalog English Italian Spanish German French Polish Russian
Claas Swathers LINER 750 PAIN Spare Parts Catalog English Italian Spanish German French Polish Russian
Claas Swathers LINER 700 Spare Parts Catalog English Italian Spanish German French Polish Russian
Claas Swathers LINER 680 PROFIL Spare Parts Catalog English Italian Spanish German French Polish Russian
Claas Swathers LINER / L Spare Parts Catalog English Italian Spanish German French Polish Russian
Claas Swathers LINER 660 HY Spare Parts Catalog English Italian Spanish German French Polish Russian
Claas Swathers LINER 650 PAIN Spare Parts Catalog English Italian Spanish German French Polish Russian
Claas Swathers LINER T Spare Parts Catalog English Italian Spanish German French Polish Russian
Claas Swathers LINER 500/500 T Spare Parts Catalog English Italian Spanish German French Polish Russian
Claas Swathers LINER 470 T Spare Parts Catalog English Italian Spanish German French Polish Russian
Claas Swathers LINER 450 T Spare Parts Catalog English Italian Spanish German French Polish Russian
Claas Swathers LINER 470 s 1430s Spare Parts Catalog English Italian Spanish German French Polish Russian
Claas Swathers Unifarm CR 330-300 Spare Parts Catalog English Italian Spanish German French Polish Russian
Claas Tedders UNFARM 500-440 Spare Parts Catalog English Italian Spanish German French Polish Russian
Claas Tedders UNFARM 300 Spare Parts Catalog English Italian Spanish German French Polish Russian
Claas Tedders VOLTO 1320 T Spare Parts Catalog English Italian Spanish German French Polish Russian
Claas Tedders VOLTO 1300 T Spare Parts Catalog English Italian Spanish German French Polish Russian
Claas Tedders VOLTO 1100/1100 T Spare Parts Catalog English Italian Spanish German French Polish Russian
Claas Tedders VOLTO 1050 T Spare Parts Catalog English Italian Spanish German French Polish Russian
Claas Tedders VOLTO T Spare Parts Catalog English Italian Spanish German French Polish Russian
Claas Tedders VOLTO 870 T Spare Parts Catalog English Italian Spanish German French Polish Russian
Claas Tedders VOLTO 870 Spare Parts Catalog English Italian Spanish German French Polish Russian
Claas Tedders VOLTO / T / TH Spare Parts Catalog English Italian Spanish German French Polish Russian
Claas Tedders VOLTO 770 T Spare Parts Catalog English Italian Spanish German French Polish Russian
Claas Tedders VOLTO 770 Spare Parts Catalog English Italian Spanish German French Polish Russian
Claas Tedders VOLTO 740-640 S Spare Parts Catalog English Italian Spanish German French Polish Russian
Claas Tedders VOLTO 740 SL Spare Parts Catalog English Italian Spanish German French Polish Russian
Claas Tedders VOLTO 700 Spare Parts Catalog English Italian Spanish German French Polish Russian
Claas Tedders VOLTO 670 Spare Parts Catalog English Italian Spanish German French Polish Russian
Claas Tedders VOLTO / Spare Parts Catalog English Italian Spanish German French Polish Russian
Claas Tedders VOLTO 550H / HR Spare Parts Catalog English Italian Spanish German French Polish Russian
Claas Tedders VOLTO 540-450 S Spare Parts Catalog English Italian Spanish German French Polish Russian
Claas Tedders VOLTO 540-450 H Spare Parts Catalog English Italian Spanish German French Polish Russian
Claas Tedders VOLTO 80 Spare Parts Catalog English Italian Spanish German French Polish Russian
Claas Tedders VOLTO 77 Spare Parts Catalog English Italian Spanish German French Polish Russian
Claas Tedders VOLTO 75 T / 750 Spare Parts Catalog English Italian Spanish German French Polish Russian
Claas Tedders VOLTO 65 Spare Parts Catalog English Italian Spanish German French Polish Russian
Claas Tedders VOLTO 60 Spare Parts Catalog English Italian Spanish German French Polish Russian
Claas Tedders VOLTO 58 Spare Parts Catalog English Italian Spanish German French Polish Russian
Claas Tedders VOLTO 55 / 45 Spare Parts Catalog English Italian Spanish German French Polish Russian
Claas Tedders VOLTO 52 T Spare Parts Catalog English Italian Spanish German French Polish Russian
Claas Tedders VOLTO 52 / 45 Spare Parts Catalog English Italian Spanish German French Polish Russian
Claas Tedders Welding parts VOLTO Spare Parts Catalog English Italian Spanish German French Polish Russian
Claas Tedders W 540-450 L Spare Parts Catalog English Italian Spanish German French Polish Russian
Claas Telehandlers RANGER 975-964 / 928-925 Spare Parts Catalog English Italian Spanish German French Polish Russian
Claas Telehandlers RANGER 970-920 Spare Parts Catalog English Italian Spanish German French Polish Russian
Claas Telehandlers RANGER 945 GX Spare Parts Catalog English Italian Spanish German French Polish Russian
Claas Telehandlers RANGER 940 GX Spare Parts Catalog English Italian Spanish German French Polish Russian
Claas Telehandlers RANGER Front attachment Spare Parts Catalog English Italian Spanish German French Polish Russian
Claas Telehandlers SCORPION 1033 / 1033 VARIPOWER Spare Parts Catalog English Italian Spanish German French Polish Russian
Claas Telehandlers SCORPION 1033-732 Front attachment Spare Parts Catalog English Italian Spanish German French Polish Russian
Claas Telehandlers SCORPION 960 / 960 VARIPOWER Spare Parts Catalog English Italian Spanish German French Polish Russian
Claas Telehandlers SCORPION 756 '756 VARIPOWER Spare Parts Catalog English Italian Spanish German French Polish Russian
Claas Telehandlers SCORPION 746 / 746 VARIPOWER Spare Parts Catalog English Italian Spanish German French Polish Russian
Claas Telehandlers SCORPION 741 '741 VARIPOWER Spare Parts Catalog English Italian Spanish German French Polish Russian
Claas Telehandlers SCORPION 736 / 736 VARIPOWER Spare Parts Catalog English Italian Spanish German French Polish Russian
Claas Telehandlers SCORPION 732 / 732 VARIPOWER Spare Parts Catalog English Italian Spanish German French Polish Russian
Claas Telehandlers SCORPION 635 / 635 VARIPOWER Spare Parts Catalog English Italian Spanish German French Polish Russian
Claas Telehandlers SCORPION 9055 Spare Parts Catalog English Italian Spanish German French Polish Russian
Claas Telehandlers SCORPION 9040 Spare Parts Catalog English Italian Spanish German French Polish Russian
Claas Telehandlers SCORPION 7055 Spare Parts Catalog English Italian Spanish German French Polish Russian
Claas Telehandlers SCORPION 7050 Spare Parts Catalog English Italian Spanish German French Polish Russian
Claas Telehandlers SCORPION 7045 Spare Parts Catalog English Italian Spanish German French Polish Russian
Claas Telehandlers SCORPION 7044 Spare Parts Catalog English Italian Spanish German French Polish Russian
Claas Telehandlers SCORPION 7040 Spare Parts Catalog English Italian Spanish German French Polish Russian
Claas Telehandlers SCORPION 7035 Spare Parts Catalog English Italian Spanish German French Polish Russian
Claas Telehandlers SCORPION 7030 Spare Parts Catalog English Italian Spanish German French Polish Russian
Claas Telehandlers SCORPION 6040 Spare Parts Catalog English Italian Spanish German French Polish Russian
Claas Telehandlers SCORPION 6035 / 6030 Spare Parts Catalog English Italian Spanish German French Polish Russian
Claas Telehandlers SCORPION 6030 cp Spare Parts Catalog English Italian Spanish German French Polish Russian
Claas Telehandlers SCORPION 6030 Spare Parts Catalog English Italian Spanish German French Polish Russian
Claas Telehandlers TARGO Go-so serial Spare Parts Catalog English Italian Spanish German French Polish Russian
Claas Telehandlers TARGO CSO-40 serial Spare Parts Catalog English Italian Spanish German French Polish Russian
Claas Telehandlers TARGO K-serlal Spare Parts Catalog English Italian Spanish German French Polish Russian
Claas Telehandlers TARGO c-serlal Spare Parts Catalog English Italian Spanish German French Polish Russian
Claas Tractors ARES 836-826 4ps,'FPS Spare Parts Catalog English Italian Spanish German French Polish Russian
Claas Tractors ARES 836-816 RZ QUADRISHIFT Spare Parts Catalog English Italian Spanish German French Polish Russian
Claas Tractors ARES 836-715 RZ Spare Parts Catalog English Italian Spanish German French Polish Russian
Claas Tractors ARES 826-815 RZ FPS Spare Parts Catalog English Italian Spanish German French Polish Russian
Claas Tractors ARES 720-710 RZ Spare Parts Catalog English Italian Spanish German French Polish Russian
Claas Tractors ARES 697-617 ATZ Spare Parts Catalog English Italian Spanish German French Polish Russian
Claas Tractors ARES RX,'RZ / ARES 640-610 RX,'RZ Spare Parts Catalog English Italian Spanish German French Polish Russian
Claas Tractors ARES RWRZ Spare Parts Catalog English Italian Spanish German French Polish Russian
Claas Tractors ARES RC Spare Parts Catalog English Italian Spanish German French Polish Russian
Claas Tractors ARES RZ / ARES 630 RX,'RZ Spare Parts Catalog English Italian Spanish German French Polish Russian
Claas Tractors ARES 620-610 RWRZ Spare Parts Catalog English Italian Spanish German French Polish Russian
Claas Tractors ARES 577-547 ATWATZ Spare Parts Catalog English Italian Spanish German French Polish Russian
Claas Tractors ARES 566-546 RX,'RZ / ARES 550-540 RX,'RZ Spare Parts Catalog English Italian Spanish German French Polish Russian
Claas Tractors ARES 566-546 RWRZ Spare Parts Catalog English Italian Spanish German French Polish Russian
Claas Tractors ARES 550-540 RX Spare Parts Catalog English Italian Spanish German French Polish Russian
Claas Tractors ARION 660-610 CMATIC stage V Spare Parts Catalog English Italian Spanish German French Polish Russian
Claas Tractors ARION 650-610 HEXA stage V Spare Parts Catalog English Italian Spanish German French Polish Russian
Claas Tractors ARION 640-620 C Spare Parts Catalog English Italian Spanish German French Polish Russian
Claas Tractors ARION C Spare Parts Catalog English Italian Spanish German French Polish Russian
Claas Tractors ARION 640-610 Spare Parts Catalog English Italian Spanish German French Polish Russian
Claas Tractors ARION 600 HEXASHIFT stage 111b Spare Parts Catalog English Italian Spanish German French Polish Russian
Claas Tractors ARION 550-510 CMATIC stage V Spare Parts Catalog English Italian Spanish German French Polish Russian
Claas Tractors ARION 600 CMATIC stage 111b Spare Parts Catalog English Italian Spanish German French Polish Russian
Claas Tractors ARION SOO HEXASHIFT stage 111b Spare Parts Catalog English Italian Spanish German French Polish Russian
Claas Tractors ARION SOO CMATIC stage 111b Spare Parts Catalog English Italian Spanish German French Polish Russian
Claas Tractors ARION 550-510 HE-VA stage V Spare Parts Catalog English Italian Spanish German French Polish Russian
Claas Tractors ARION 540-510 Spare Parts Catalog English Italian Spanish German French Polish Russian
Claas Tractors ARION 500-600 stage IV HEXASHIFT Spare Parts Catalog English Italian Spanish German French Polish Russian
Claas Tractors ARION no-soo stage IV CMATIC Spare Parts Catalog English Italian Spanish German French Polish Russian
Claas Tractors ARION 460-430 stage Spare Parts Catalog English Italian Spanish German French Polish Russian
Claas Tractors ARION 460-410 stage IV MR Spare Parts Catalog English Italian Spanish German French Polish Russian
Claas Tractors ARION 450-420 M stage IV Spare Parts Catalog English Italian Spanish German French Polish Russian
Claas Tractors ARION 430-410 Spare Parts Catalog English Italian Spanish German French Polish Russian
Claas Tractors ARION 420410 stage IV Spare Parts Catalog English Italian Spanish German French Polish Russian
Claas Tractors ATLES 946-926 RZ Spare Parts Catalog English Italian Spanish German French Polish Russian
Claas Tractors ATLES 936-915 RZ Spare Parts Catalog English Italian Spanish German French Polish Russian
Claas Tractors ATOS 350-330 Spare Parts Catalog English Italian Spanish German French Polish Russian
Claas Tractors ATOS 350-330 stage 111b T2 Spare Parts Catalog English Italian Spanish German French Polish Russian
Claas Tractors ATOS 240-3213 Spare Parts Catalog English Italian Spanish German French Polish Russian
Claas Tractors ATOS 240-'pn stage 111b T2 Spare Parts Catalog English Italian Spanish German French Polish Russian
Claas Tractors AXON 960-930 TERRATRAC Spare Parts Catalog English Italian Spanish German French Polish Russian
Claas Tractors AXON 960-920 – AE4 Spare Parts Catalog English Italian Spanish German French Polish Russian
Claas Tractors AXON 960-920 stage IV Spare Parts Catalog English Italian Spanish German French Polish Russian
Claas Tractors AXON 950-920 stage 111b Spare Parts Catalog English Italian Spanish German French Polish Russian
Claas Tractors AXON IRC Spare Parts Catalog English Italian Spanish German French Polish Russian
Claas Tractors AXON 880-810 CMATIC st V Spare Parts Catalog English Italian Spanish German French Polish Russian
Claas Tractors AXON 880-810 CMATIC stage IV MR Spare Parts Catalog English Italian Spanish German French Polish Russian
Claas Tractors AXON 870-810 CMATIC stage IV Spare Parts Catalog English Italian Spanish German French Polish Russian
Claas Tractors AXION 840-810 CMATIC Spare Parts Catalog English Italian Spanish German French Polish Russian
Claas Tractors AXON 850-810 HE-VA stage IV Spare Parts Catalog English Italian Spanish German French Polish Russian
Claas Tractors AXON 850-800 HEXA st V Spare Parts Catalog English Italian Spanish German French Polish Russian
Claas Tractors AXON 850-810 HEXASHIFT Spare Parts Catalog English Italian Spanish German French Polish Russian
Claas Tractors AXON 850-800 HE.usHlFT stage IV MR Spare Parts Catalog English Italian Spanish German French Polish Russian
Claas Tractors AXON 850-810 Spare Parts Catalog English Italian Spanish German French Polish Russian
Claas Tractors AXON 800 HEXASHIFT IRC Spare Parts Catalog English Italian Spanish German French Polish Russian
Claas Tractors AXON stage IV HE-VA NA Spare Parts Catalog English Italian Spanish German French Polish Russian
Claas Tractors Axos 340-310 t12 Spare Parts Catalog English Italian Spanish German French Polish Russian
Claas Tractors Axos 340-310 Spare Parts Catalog English Italian Spanish German French Polish Russian
Claas Tractors CELTIS FARMING 456-426 Spare Parts Catalog English Italian Spanish German French Polish Russian
Claas Tractors CELTIS 456-426 Spare Parts Catalog English Italian Spanish German French Polish Russian
Claas Tractors CERES 355-325 X Spare Parts Catalog English Italian Spanish German French Polish Russian
Claas Tractors CERES Spare Parts Catalog English Italian Spanish German French Polish Russian
Claas Tractors CERES Spare Parts Catalog English Italian Spanish German French Polish Russian
Claas Tractors CERES un-310x Spare Parts Catalog English Italian Spanish German French Polish Russian
Claas Tractors CERES 95-70 X Spare Parts Catalog English Italian Spanish German French Polish Russian
Claas Tractors CERES 95-65 X Spare Parts Catalog English Italian Spanish German French Polish Russian
Claas Tractors CERGos 355-335 Spare Parts Catalog English Italian Spanish German French Polish Russian
Claas Tractors CERGos 350-330 Spare Parts Catalog English Italian Spanish German French Polish Russian
Claas Tractors CHALLENGER 95 E Spare Parts Catalog English Italian Spanish German French Polish Russian
Claas Tractors CHALLENGER 85 E Spare Parts Catalog English Italian Spanish German French Polish Russian
Claas Tractors CHALLENGER 75 E Spare Parts Catalog English Italian Spanish German French Polish Russian
Claas Tractors CHALLENGER 65 E Spare Parts Catalog English Italian Spanish German French Polish Russian
Claas Tractors CHALLENGER 55-35 Rag Spare Parts Catalog English Italian Spanish German French Polish Russian
Claas Tractors CHALLENGER 55-35 RC98 Spare Parts Catalog English Italian Spanish German French Polish Russian
Claas Tractors DIONIS 140-120 Spare Parts Catalog English Italian Spanish German French Polish Russian
Claas Tractors DIONIS 140-110 Spare Parts Catalog English Italian Spanish German French Polish Russian
Claas Tractors ELIOS 240-210 stage 111b Spare Parts Catalog English Italian Spanish German French Polish Russian
Claas Tractors ELIOS 200 Spare Parts Catalog English Italian Spanish German French Polish Russian
Claas Tractors ERGOS 466-446 HYDROSHIFT Spare Parts Catalog English Italian Spanish German French Polish Russian
Claas Tractors ERGOS 466-436 HYDROSHIFT Spare Parts Catalog English Italian Spanish German French Polish Russian
Claas Tractors ERGOS 466-436 Spare Parts Catalog English Italian Spanish German French Polish Russian
Claas Tractors ERGOS 110-90 Spare Parts Catalog English Italian Spanish German French Polish Russian
Claas Tractors ERGOS 110-100 HYDROSHIFT Spare Parts Catalog English Italian Spanish German French Polish Russian
Claas Tractors ERGOS 105-95 Spare Parts Catalog English Italian Spanish German French Polish Russian
Claas Tractors ERGOS 105-85 Spare Parts Catalog English Italian Spanish German French Polish Russian
Claas Tractors FRONT LOADER FL250-40 FL250-40 C Spare Parts Catalog English Italian Spanish German French Polish Russian
Claas Tractors FRONT LOADER FL 1 so-so Spare Parts Catalog English Italian Spanish German French Polish Russian
Claas Tractors FRONT LOADER CL5D0 US Market) Spare Parts Catalog English Italian Spanish German French Polish Russian
Claas Tractors FRONT LOADER FLE Spare Parts Catalog English Italian Spanish German French Polish Russian
Claas Tractors FRONT LOADER FL C Spare Parts Catalog English Italian Spanish German French Polish Russian
Claas Tractors FRONT LOADER FL Spare Parts Catalog English Italian Spanish German French Polish Russian
Claas Tractors IMPLEMENTS FRONT LOADER Spare Parts Catalog English Italian Spanish German French Polish Russian
Claas Tractors ADAPTATION FOTRACTORS 800-500 Spare Parts Catalog English Italian Spanish German French Polish Russian
Claas Tractors ADAPTATION FL,'TRACTORS 400-100 Spare Parts Catalog English Italian Spanish German French Polish Russian
Claas Tractors FRUCTUS 140-120 Spare Parts Catalog English Italian Spanish German French Polish Russian
Claas Tractors FRUCTUS 140-110 Spare Parts Catalog English Italian Spanish German French Polish Russian
Claas Tractors Overview Tractor Spare Parts Catalog English Italian Spanish German French Polish Russian
Claas Tractors Overview Motor Spare Parts Catalog English Italian Spanish German French Polish Russian
Claas Tractors PR-1 503 Spare Parts Catalog English Italian Spanish German French Polish Russian
Claas Tractors PR_1 501 Spare Parts Catalog English Italian Spanish German French Polish Russian
Claas Tractors 954-950 Ml Spare Parts Catalog English Italian Spanish German French Polish Russian
Claas Tractors 90-75 TX Spare Parts Catalog English Italian Spanish German French Polish Russian
Claas Tractors 90-58 Spare Parts Catalog English Italian Spanish German French Polish Russian
Claas Tractors 904-850 Ml HYDROSHIFT Spare Parts Catalog English Italian Spanish German French Polish Russian
Claas Tractors 85-61 TX'TS,'RWRA Spare Parts Catalog English Italian Spanish German French Polish Russian
Claas Tractors 85-58 sp,'LS Spare Parts Catalog English Italian Spanish German French Polish Russian
Claas Tractors 854-650 Ml Spare Parts Catalog English Italian Spanish German French Polish Russian
Claas Tractors 851-782 Spare Parts Catalog English Italian Spanish German French Polish Russian
Claas Tractors 80-55 FN,'La Spare Parts Catalog English Italian Spanish German French Polish Russian
Claas Tractors 80-50 F/V,'La Spare Parts Catalog English Italian Spanish German French Polish Russian
Claas Tractors 804-600 M Spare Parts Catalog English Italian Spanish German French Polish Russian
Claas Tractors 656-521 s '466421 ,'461-351 M Spare Parts Catalog English Italian Spanish German French Polish Russian
Claas Tractors 44-32 F/V,'SV Spare Parts Catalog English Italian Spanish German French Polish Russian
Claas Tractors 180-160 TZ Spare Parts Catalog English Italian Spanish German French Polish Russian
Claas Tractors 175-74 TZ Spare Parts Catalog English Italian Spanish German French Polish Russian
Claas Tractors 155-110 Spare Parts Catalog English Italian Spanish German French Polish Russian
Claas Tractors 145 Spare Parts Catalog English Italian Spanish German French Polish Russian
Claas Tractors -110 RE/TS/TX Spare Parts Catalog English Italian Spanish German French Polish Russian
Claas Tractors 145 Spare Parts Catalog English Italian Spanish German French Polish Russian
Claas Tractors -110 ME/TE/TA'TS,'RE Spare Parts Catalog English Italian Spanish German French Polish Russian
Claas Tractors IDE-gs Spare Parts Catalog English Italian Spanish German French Polish Russian
Claas Tractors IDE-103 TX'TWTS/TE/TA Spare Parts Catalog English Italian Spanish German French Polish Russian
Claas Tractors IDE TL / 103 TX'TS/TE'TA Spare Parts Catalog English Italian Spanish German French Polish Russian
Claas Tractors MOT D MWM,'EAU Spare Parts Catalog English Italian Spanish German French Polish Russian
Claas Tractors MOT D MWM,'AIR Spare Parts Catalog English Italian Spanish German French Polish Russian
Claas Tractors MOT D/TD MWM,'EAU Spare Parts Catalog English Italian Spanish German French Polish Russian
Claas Tractors 681 & 681 s Spare Parts Catalog English Italian Spanish German French Polish Russian
Claas Tractors MOT D 226/2274/6 MWM,'EAU Spare Parts Catalog English Italian Spanish German French Polish Russian
Claas Tractors MOT PERKINS 4-236/248 Spare Parts Catalog English Italian Spanish German French Polish Russian
Claas Tractors BASSO 160-130 Spare Parts Catalog English Italian Spanish German French Polish Russian
Claas Tractors BASSO 140-130 Spare Parts Catalog English Italian Spanish German French Polish Russian
Claas Tractors NECTIS 267-227 F Spare Parts Catalog English Italian Spanish German French Polish Russian
Claas Tractors NECTIS 267-217 VL Spare Parts Catalog English Italian Spanish German French Polish Russian
Claas Tractors NECTIS 237-217 VE Spare Parts Catalog English Italian Spanish German French Polish Russian
Claas Tractors NEXos 250-210 stage 111b Spare Parts Catalog English Italian Spanish German French Polish Russian
Claas Tractors NEXOS Fa Spare Parts Catalog English Italian Spanish German French Polish Russian
Claas Tractors NEXos F 200 Spare Parts Catalog English Italian Spanish German French Polish Russian
Claas Tractors NEXos VL 200 Spare Parts Catalog English Italian Spanish German French Polish Russian
Claas Tractors NEXos VE 200 Spare Parts Catalog English Italian Spanish German French Polish Russian
Claas Tractors PALES 240-3213 Spare Parts Catalog English Italian Spanish German French Polish Russian
Claas Tractors PALES 240-210 Spare Parts Catalog English Italian Spanish German French Polish Russian
Claas Tractors TAOS 200 Spare Parts Catalog English Italian Spanish German French Polish Russian
Claas Tractors TALOS IDO Spare Parts Catalog English Italian Spanish German French Polish Russian
Claas Tractors TEMIS Spare Parts Catalog English Italian Spanish German French Polish Russian
Claas Tractors TEMIS X Spare Parts Catalog English Italian Spanish German French Polish Russian
Claas Tractors XERION 5DD0-4DD0 Spare Parts Catalog English Italian Spanish German French Polish Russian
Claas Tractors XERION 3800 3300 Spare Parts Catalog English Italian Spanish German French Polish Russian
Claas Tractors XERION 3300 Spare Parts Catalog English Italian Spanish German French Polish Russian
Claas Tractors XERION 3000 / 2500 Spare Parts Catalog English Italian Spanish German French Polish Russian
Claas Wheel Loaders TORION 1914 stage V Spare Parts Catalog English Italian Spanish German French Polish Russian
Claas Wheel Loaders TORION 1914 stage Spare Parts Catalog English Italian Spanish German French Polish Russian
Claas Wheel Loaders TORION 1812 stage V Spare Parts Catalog English Italian Spanish German French Polish Russian
Claas Wheel Loaders TORION 1812 stage Spare Parts Catalog English Italian Spanish German French Polish Russian
Claas Wheel Loaders TORION 1511 stage V Spare Parts Catalog English Italian Spanish German French Polish Russian
Claas Wheel Loaders TORION 1511 stage IV Spare Parts Catalog English Italian Spanish German French Polish Russian
Claas Wheel Loaders TORION 1410 stage V Spare Parts Catalog English Italian Spanish German French Polish Russian
Claas Wheel Loaders TORION 1410 stage IV Spare Parts Catalog English Italian Spanish German French Polish Russian
Claas Wheel Loaders TORION 1177 stage V Spare Parts Catalog English Italian Spanish German French Polish Russian
Claas Wheel Loaders TORION 1177 stage IV Spare Parts Catalog English Italian Spanish German French Polish Russian
Claas Wheel Loaders TORION SINUS Spare Parts Catalog English Italian Spanish German French Polish Russian
Claas Wheel Loaders TORION 738 T SINUS Spare Parts Catalog English Italian Spanish German French Polish Russian
Claas Wheel Loaders TORION SINUS Spare Parts Catalog English Italian Spanish German French Polish Russian
Claas Wheel Loaders TORION 639 stage V Spare Parts Catalog English Italian Spanish German French Polish Russian
Claas Wheel Loaders TORION 639 stage 111b Spare Parts Catalog English Italian Spanish German French Polish Russian
Claas Wheel Loaders TORION 537 SINUS Spare Parts Catalog English Italian Spanish German French Polish Russian
Claas Wheel Loaders TORION 535 stage V Spare Parts Catalog English Italian Spanish German French Polish Russian
Claas Wheel Loaders TORION 535 stage 111b Spare Parts Catalog English Italian Spanish German French Polish Russian
If you need help, please let us know,
This is our 
contact
Related Products