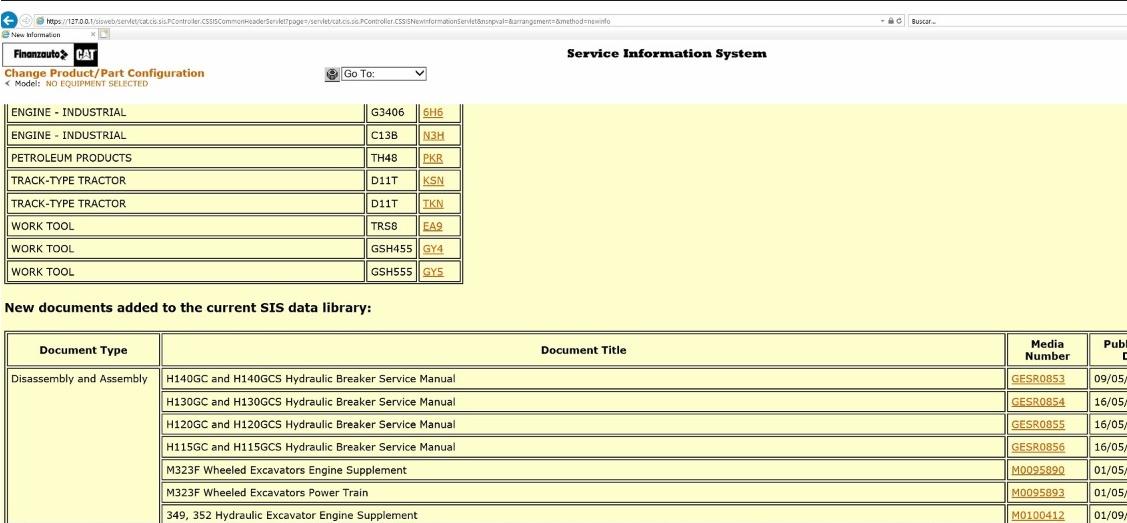 Caterpillar SIS DVD All EPC Parts Catalog, Repair Manual, Wiring & Hydraulic Diagrams [10.2021]
Size: 157 GB
Type of software: Parts catalogs, Repair Manuals, Wiring, and Hydraulic diagrams
Region: All regions
Year: 10.2021
Date of update: Oct 2021
Interface Languages: English, Dutch, Spanish, Italian, Chinese, German, French
Database Language: Only English
OS: Window 7 32 & 64bit, Window 10 32 & 64bit
Quantity of DVD: 15 Install DVD-DL, 1 Install CD, 4 ISO Images, compressed size 157 GB
Instruction: Present
Installation Multiple: PCs
Print Function: Present
High-Speed Link Download
If you still have questions about our Products
Don't hesitate to contact us "Support@servicepartmanuals.com"
Cheapest on the Internet !
US $299
Description
Caterpillar SIS DVD All EPC Parts Catalog, Repair Manual, Wiring & Hydraulic Diagrams [10.2021]

Size: 157 GB
Type of software: Parts catalogs, Repair Manuals, Wiring, and Hydraulic diagrams
Region: All regions
Year: 10.2021
Date of update: Oct 2021
Interface Languages: English, Dutch, Spanish, Italian, Chinese, German, French
Database Language: Only English
OS: Window 7 32 & 64bit, Window 10 32 & 64bit
Quantity of DVD: 15 Install Caterpillar SIS DVD DVD-DL, 1 Install CD, 4 ISO Images, compressed size 157 GB
Instruction: Present
Installation Multiple: PCs
Print Function: Present
High-Speed Link Download
If you still have questions about our Products
Don't hesitate to contact us "Support@servicepartmanuals.com"
Cheapest on the Internet !
Caterpillar SIS DVD All 26 data DVDs have been replaced by 4 USB Flash Drives. It is easier and more convenient to use especially with Windows 10 OS. The data is available as ISO images or compressed folders. You can keep all the information on your PC/Laptop hard drive and attach all the Data to the Caterpillar SIS DVD simultaneously.
Details Caterpillar SIS DVD SERVICE INFORMATION SYSTEM 10/2021:
Caterpillar SIS DVD
USBD0001 79614 files 20157 folders 49,398,679,558 bytes
USBD0002 31137 files 9017 folders 21,331,832,262 bytes
USBD0003 120704 files 22583 folders 50,482,707,351 bytes
USBD0004 68432 files 19951 folders 43,938,120,258 bytes
RERD0010 120 files 23 folders 7,502,291,758 bytes
RERD0011 28 files 2 folders 7,991,838,411 bytes
RERD0012 28 files 2 folders 7,991,546,248 bytes
RERD0013 28 files 2 folders 7,993,092,629 bytes
RERD0014 28 files 2 folders 7,987,262,042 bytes
RERD0015 28 files 2 folders 7,989,639,452 bytes
RERD0016 28 files 2 folders 7,977,080,757 bytes
RERD0017 28 files 2 folders 7,813,167,104 bytes
RERD0018 28 files 2 folders 7,594,749,325 bytes
RERD0019 28 files 2 folders 7,418,307,124 bytes
RERD0020 13 files 2 folders 2,835,790,915 bytes
Caterpillar Service Information System Data Release Notes
New products
Families/Models/Prefixes
COLD PLANER, PM820, HN8
ENGINE, 3516E, SW2
ENGINE, 3512E, SY9
MOBILE HYD POWER UNIT, 345D, P5D
MINI HYD EXCAVATOR, 307.5, GW7
MOTOR GRADER, 140, N94
SHEAR, S3035, LNT
WORK TOOL, , PA2
COLD PLANER, PM822, JB7
ENGINE, 3512E, SY7
ENGINE, 3512E, SY5
ENGINE, 3512E, SY3
EXCAVATOR, 315, WKX
MINI HYD EXCAVATOR, 308, GG8
ASPHALT COMPACTOR, CB10, 5B4
COLD PLANER, PC310B, RCF
COLD PLANER, PM825, HC8
ENGINE, 3516E, SW5
ENGINE, 3512E, SY6
EXCAVATOR, 315 GC, LYW
EXCAVATOR, 313 GC, RYT
EXCAVATOR, 313 GC, NFZ
EXCAVATOR, 313, KNL
EXCAVATOR, 313, JHR
MINI HYD EXCAVATOR, 310, GWT
MINI HYD EXCAVATOR, 308.5, GZ8
MINI HYD EXCAVATOR, 308, GX8
TRUCK, 794 AC, HRT
SOIL COMPACTOR, CS11, RK8
SOIL COMPACTOR, CS10, T8F
PETROLEUM ENGINE, 3516C, CG7
COLD PLANER, PC306B, PWZ
ENGINE, 3516E, SWK
ENGINE, 3516E, SWD
ENGINE, 3516E, SW6
ENGINE, 3512E, SY8
ENGINE, 3512C, HZR
LOCOMOTIVE ENGINE, PR20B, SMW
EXCAVATOR, 326, LHY
MARINE ENGINE, CT220-600, HMZ
QUICK COUPLER, , L9A
SHEAR, S3025, LNS
ENGINE, 3516E, SW4
ENGINE, 3516E, SW3
ENGINE, 3512E, SY2
EXCAVATOR, 326, MFJ
MINI HYD EXCAVATOR, 309, GW9
SOIL COMPACTOR, CS12, GCS
SHEAR, S3015, LNP
SHEAR-DEMOLITION/SCRAP, S3015, SX2
GENERATOR SET, 3516C, PXY
MINI HYD EXCAVATOR, 309, GG9
MINI HYD EXCAVATOR, 308, GK8
MOTOR GRADER, 140, N95
SHEAR-DEMOLITION/SCRAP, S3025, SX3
ENGINE, C175-16, P6P
ENGINE, 3512E, SY4
ENGINE – MACHINE, C18, TYW
EXCAVATOR, 340, TYH
EXCAVATOR, 326, KCK
EXCAVATOR, 313, SZY
EXCAVATOR, 313, MKJ
MINI HYD EXCAVATOR, 308, GW8
ASPHALT COMPACTOR, CB7, G44
UTILITY VEHICLE, CUV105D, GD5
SHEAR-DEMOLITION/SCRAP, S3035, SX4
UTILITY VEHICLE, CUV85, K85
If you need help please let me know,
This is my whatsapp
Related Products